Catalogs

>

Dulux

>

T12134
Catalog excerpts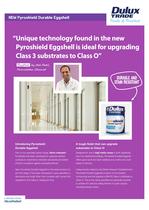 NEW Pyroshield Durable Eggshell "Unique technology found in the new Pyroshield Eggshell is ideal for upgrading Class 3 substrates to Class O" Trusted by Ash Patel, Formulation Chemist DURABLE AND STAIN RESISTANT Introducing Pyroshield Durable Eggshell A tough finish that can upgrade substrates to Class O Par t of our specialist paints range, flame retardant Designed for use in high traffic areas in both residential Pyroshield has been developed to upgrade painted and non-residential buildings, Pyroshield Durable Eggshell surfaces to meet flame retardant standards and better offers good scuff and stain resistance so marks are much protect occupants against spreading flames. New Pyroshield Durable Eggshell is the latest product to Independently tested by the British Research Establishment, join the range. It has been developed to give specifiers a Pyroshield Durable Eggshell contains no brominated decorative yet tough finish that complies with current fire compounds and will upgrade a BS476 Class 3 substrate to regulations and helps to safeguard lives. Class O. This is the rating specifiers are generally required to achieve for wall and ceiling finishes in public spaces including escape routes.
Open the catalog to page 1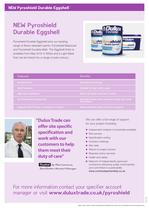 NEW Pyroshield Durable Eggshell NEW Pyroshield Durable Eggshell Pyroshield Durable Eggshell joins our existing range of flame retardant paints; Pyroshield Basecoat and Pyroshield Durable Matt. The Eggshell finish is available from May 2012 in White and a Light Base that can be tinted into a range of pale colours. Durable nish Scuff resistant Suitable for high trafc areas High stain resistance Allows for easier removal of marks Releases steam when exposed to heat and cools the surface Upgrade BS476 Class 3 substrate to Class O Helps speciers better protect occupants "Dulux Trade can offer...
Open the catalog to page 2
All Dulux catalogs and technical brochures

Compare up to 10 products