Catalogs

>

Dulux

>

FAST MATT
Catalog excerpts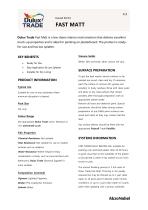 FAST MATT Dulux Trade Fast Matt is a low sheen interior matt emulsion that delivers excellent touch-up properties and is ideal for painting on plasterboard. The product is readyfor-use and has low splatter. Easy Application & Low Splatter Volume Solids White: 30% (nominal), other colours will vary. SURFACE PREPARATION To get the best results, ensure surfaces to be PRODUCT INFORMATION Typical Use painted are sound, clean and dry. If necessary, wash the surface to remove dirt, grease and powdery or dusty residues. Rinse with clean water Suitable for use on any substrates where and allow to dry. Seal surfaces that remain minimum disruption is desired. powdery after thorough preparation with an appropriate plaster sealer. Pack Size 10L only. Colour Range See appropriate Dulux Trade colour literature or visit duluxtrade.co.uk Remove all loose and defective paint. Special precautions should be taken during surface preparation of pre-1960s paint surfaces over wood and metal as they may contain harmful lead. Any surface defects should be filled with the appropriate Polycell Trade Polyfilla. Film Properties Chemical Resistance: Not suitable. SYSTEMS INFORMATION Heat Resistance: Not suitable for use on heated surfaces such as radiators. Water Resistance: Where frequent heavy condensation is likely, such as some kitchens and bathrooms, Dulux Trade Diamond Eggshell is more suitable. Composition (nominal) STIR THOROUGHLY BEFORE USE. Suitable for painting over skimmed plaster after 24-48 hours. A good visual test to the suitability of the plaster to be painted is when it has started to turn from brown to pink. The normal finishing process is 2 full coats of Dulux Trade Fast Matt. Thinning is not usually required but may be thinned up to 1 part clean Pigment: Lightfast Pigments. water to 10 parts paint if desired under normal Binder: PVA Copolymer Emulsion. conditions, or up to 1 part clean water to 5 parts Solvent: Water. paint when applying over a porous substrate.
Open the catalog to page 1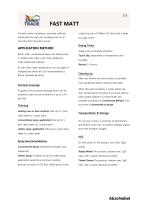 FAST MATT For best colour consistency, purchase sufficient a spray tip size of 0.38mm (15 thou) and a spray tinted paint for each job including touch-in at one time from the same source. APPLICATION METHOD Brush, roller, conventional spray and airless spray. A medium pile roller is the most suitable for water-based wall coatings. Drying Times Single coat at standard thickness: Touch Dry: Dependent on temperature and humidity. As with other water-based paints, do not apply in temperatures below 8ºC (as recommended by British Standard BS 6150). Cleaning Up After use, remove as much product as...
Open the catalog to page 2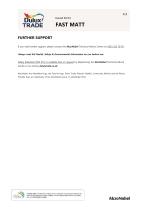 FAST MATT FURTHER SUPPORT If you need further support, please contact the AkzoNobel Technical Advice Centre on 0333 222 70 70. Always read full Health, Safety & Environmental Information on can before use. Safety datasheet (SDS 515) is available free on request by telephoning the AkzoNobel Technical Advice Centre or by visiting duluxtrade.co.uk. AkzoNobel, the AkzoNobel logo, the Flourish logo, Dulux Trade, Polycell, Polyfilla, Community RePaint and the Planet Possible logo are trademarks of the AkzoNobel group. © AkzoNobel 2014.
Open the catalog to page 3
All Dulux catalogs and technical brochures

Compare up to 10 products