Catalogs

>

Dulux

>

Dulux Trade DIAMOND MATT LIGHT & SPACE
Catalog excerpts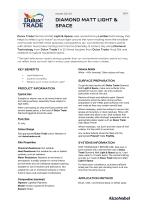 Dulux? TRADE Dulux Trade Diamond Matt Light & Space uses revotutionary Lumitec technology that helps to reflect up to twice* as much tight around the room making even the smallest rooms took and feet more spacious compared to our conventional emulsion paints with simitar hue (cotour family) and chroma (intensity of cotour). By using Diamond Technology from Dulux Trade it is 10 times tougher than Dulux Trade Vinyt Sitk and resistant to typicat househotd stains. *The tight reftectance vatue is atways greater than our conventionat emutsion paints but may not reftect twice as much tight in every case, depending on the cotour chosen. KEY BENEFITS • Light Reftective • Superior Durabitity • Reftects up to Twice as Much Light* PRODUCT INFORMATION Typical Use Suitable for interior use on all normal interior wall and ceiling surfaces, especially those subject to high traffic. When overcoating an area previously painted with solvent-based paints, a first coat of Dulux Trade Diamond Eggshell should be used. Pack Size 5L only. Colour Range See appropriate Dulux Trade colour literature or visit duluxtrade.co.uk. Film Properties Chemical Resistance: Not suitable. Heat Resistance: Not suitable for use on heated surfaces, such as radiators. Water Resistance: Resistant to the levels of atmospheric humidity present in normal interior environments and will withstand repeated washing. Suitable for use in kitchens and bathrooms. Not suitable for use on immersed surfaces or where there is heavy and prolonged condensation. Composition (nominal) Pigment: Lightfast Pigments. Binder: Acrylic Copolymer Emulsion. Solvent: Water. Volume Solids White - 44% (nominal). Other colours will vary. SURFACE PREPARATION To get the best results with Dulux Trade Diamond Matt Light & Space, make sure surfaces to be painted are sound, clean, dry (new surfaces particularly must be fully dry). Remove all loose and defective paint. Special precautions should be taken during surface preparation of pre-1960s paint surfaces over wood and metal as they may contain harmful lead. Where necessary, wash the surface to remove dirt, grease and powdery or dusty residues. Rinse with clean water and allow to dry. Seal surfaces that remain powdery after thorough preparation with an appropriate plaster sealer such as Dulux Trade Stain Block Primer. Where necessary, rub down and then wipe off with a damp, lint free cloth to avoid dust. Any surface defects should be filled with the appropriate Polycell Trade Polyfilla. SYSTEMS INFORMATION STIR THOROUGHLY BEFORE USE. Seal new or bare surfaces with a thinned first coat of Dulux Trade Diamond Matt Light & Space (up to 1 part clean water to 10 parts paint). The normal finishing process is 2 coats of Dulux Trade Diamond Matt Light & Space. For best colour consistency, purchase sufficient tinted paint for each job including touch-in at one time from the same source. APPLICATION METHOD Brush, roller, conventional spray or airless spray.
Open the catalog to page 1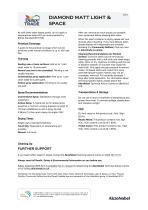 As with other water-based paints, do not apply in temperatures below 8°C (as recommended by British Standard BS 6150). Practical Coverage A guide to the practical coverage which can be achieved under normal conditions is up to 16m2 per litre. Thinning Sealing new or bare surfaces: Add up to 1 part clean water to 10 parts paint. Normal use (not to be exceeded): Thinning is not usually required. Conventional spray application: Add up to 1 part clean water to 5 parts paint. Airless spray application: Thinning is not usually required. Spray Recommendations Conventional Spray: Satisfactory...
Open the catalog to page 2
All Dulux catalogs and technical brochures

Compare up to 10 products