Catalogs

>

Dulux

>

DIAMOND MATT
Catalog excerpts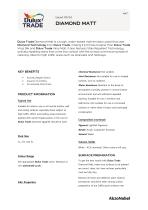 DIAMOND MATT Dulux Trade Diamond Matt is a tough, water-based matt emulsion point that uses Diamond Technology from Dulux Trade, making it lO times tougher than Dulux Trade Vinyt Sitk and Dulux Trade Vinyt Matt. It also features Stain Repellent Technology, actively repelling stains that come into contact with the surface and ensuring ease of cleaning. Ideal for high traffic areas such as stairwells and hallways. • Actively Repels Stains • Superior Durability • Scrubbable Matt Finish PRODUCT INFORMATION Suitable for interior use on all normal interior wall and ceiling surfaces, especially those subject to high traffic. When overcoating areas previously painted with solvent-based paints, a first coat of Dulux Trade Diamond Eggshell should be used. Pack Size Colour Range See appropriate Dulux Trade colour literature or visit duluxtrade.co.uk. Film Properties Chemical Resistance: Not suitable. Heat Resistance: Not suitable for use on heated surfaces, such as radiators. Water Resistance: Resistant to the levels of atmospheric humidity present in normal interior environments and will withstand repeated washing. Suitable for use in kitchens and bathrooms. Not suitable for use on immersed surfaces or where there is heavy and prolonged Composition (nominal) Pigment: Lightfast Pigments. Binder Acrylic Copolymer Emulsion. Solvent: Water. Volume Solids White - 41% (nominal). Other colours will vary. SURFACE PREPARATION To get the best results with Dulux Trade Diamond Matt, make sure surfaces to be painted are sound, clean, dry (new surfaces particularly Remove all loose and defective paint. Special precautions should be taken during surface preparation of pre-1960s paint surfaces over
Open the catalog to page 1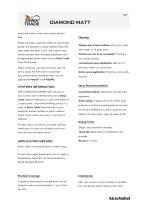 wood and metal as they may contain harmful lead. Where necessary, wash the surface to remove dirt, grease and powdery or dusty residues. Rinse with Thinning Sealing new or bare surfaces: Add up to 1 part clean water and allow to dry. Seal surfaces that clean water to 10 parts paint. remain powdery after thorough preparation with Normal use (not to be exceeded): Thinning is an appropriate plaster sealer such as Dulux Trade Stain Block Primer. Conventional spray application: Add up to 1 Where necessary, rub down and then wipe off part clean water to 5 parts paint. with a damp, lint free cloth...
Open the catalog to page 2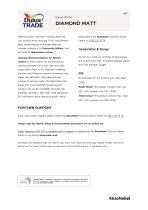 DIAMOND MATT When this paint container is empty please ask your stockist about recycling. If you have leftover paint, please dispose of it responsibly and consider donating it to Community RePaint. Find Cleaning Recommendations for Painted Surface: Common stains can be removed by cleaning promptly with a soft cloth and clean soapy water. Allow to dry. Vigorous scrubbing and the use of abrasive cleaners or scourers may impair the matt finish. Only apply enough pressure to remove marks. Oil based stains and marks from some pens/felt tips/permanent markers may not be completely removed. Full...
Open the catalog to page 3
All Dulux catalogs and technical brochures

Compare up to 10 products