Catalogs

>

Dulux

>

ALUMINIUM WOOD PRIMER
Catalog excerpts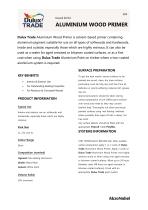 ALUMINIUM WOOD PRIMER Dulux Trade Aluminium Wood Primer is solvent-based primer containing aluminium pigment suitable for use on all types of softwoods and hardwoods, inside and outside, especially those which are highly resinous. It can also be used as a sealer for aged cresoted or bitumen coated surfaces, or as a first coat when using Dulux Trade Aluminium Paint on timber where a two-coated aluminium system is required. SURFACE PREPARATION KEY BENEFITS For Outstanding Sealing Properties For Resinous & Creosoted Woods PRODUCT INFORMATION To get the best results, ensure surfaces to be painted are sound, clean, dry (new surfaces particularly must be fully dry) and free from all defective or poorly adhering material, dirt, grease wax etc. Special precautions should be taken during surface preparation of pre-1960s paint surfaces over wood and metal as they may contain harmful lead. Thoroughly rub down previously Interior and exterior use on softwoods and painted surfaces using 'wet flatting' methods hardwoods, especially those which are highly where possible, then wipe off with a damp, lint free cloth. Any surface defects should be filled with the Pack Size appropriate Polycell Trade Polyfilla. SYSTEMS INFORMATION Colour Range STIR THOROUGHLY BEFORE USE. After suitable surface preparation apply 1 or 2 coats of Dulux Trade Aluminium Wood Primer. Apply 2 coats of Composition (nominal) Pigment: Non-leafing Aluminium. Binder: Alkyd Resin. Solvent: White Spirit. Volume Solids 39% (nominal). Dulux Trade Aluminium Wood Primer over highly resinous wood or when using over aged creosote or bitumen coated surfaces. Allow up to 24 hours between coats (48 hours on aged creosote or bitumen coated surfaces). Finish with an appropriate Dulux Trade paint system.
Open the catalog to page 1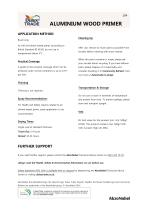 TRADE ALUMINIUM WOOD PRIMER APPLICATION METHOD Brush only. As with all solvent based paints (according to Practical Coverage A guide to the practical coverage which can be achieved under normal conditions is up to 17m2 Spray Recommendations For Health and Safety reasons related to all solvent-based paints, spray application is not Drying Times Single coat at standard thickness: After use, remove as much paint as possible from brushes before cleaning with brush cleaner. When this paint container is empty please ask your stockist about recycling. If you have leftover paint, please dispose of...
Open the catalog to page 2
All Dulux catalogs and technical brochures

Compare up to 10 products