Catalogs

>

Safe Deposit Installations
Catalog excerpts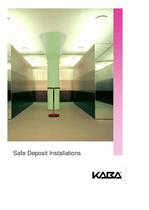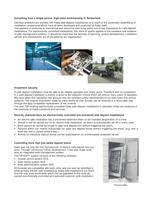 Everything from a single source, high-class workmanship in Switzerland Interface problems are avoided with Kaba safe deposit installations as a result of the systematic assembling of installation components which have all been developed and produced by Kaba itself. This pertains in particular to mechanical and electronic safe locks which are of key importance for safe deposit installations. For electronically controlled installations, this mark of quality applies to the hardware and software of safe management systems. It should be noted that the services of planning, project development,...
Open the catalog to page 2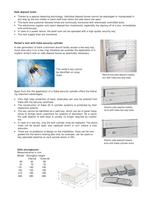 Safe deposit locks · Thanks to a special fastening technology, individual deposit boxes cannot be sabotaged or manipulated in any way by the box holder or bank staff even when the safe doors are open. · The bank and customer blocked times are continually monitored with electrically controlled locks. · The electronics register and report deposit box movements, especially the signing off of a box, immediately and continuously. · In case of a power failure, the bank lock can be operated with a high quality security key. · The lock supply lines are monitored. Renter's lock with Kaba security...
Open the catalog to page 3
All Dormakaba catalogs and technical brochures

Archived catalogs
Compare up to 10 products