Catalogs

>

Master key systems management
Catalog excerpts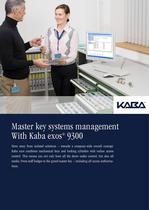 Master key systems management With Kaba exos 9300 ® Move away from isolated solutions – towards a company-wide overall concept: Kaba exos combines mechanical keys and locking cylinders with online access control. This means you not only have all the doors under control, but also all media: From staff badges to the grand master key – including all access authorizations.
Open the catalog to page 1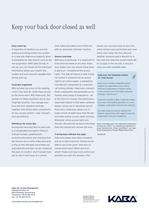 Keep your back door closed as well Easy start-up time, Kaba exos takes care of this too: means you can trace back at any time Irrespective of whether you are inte- with an automatic reminder function. which actions were performed and, even grating an existing master key system many years down the line, discover or a new one: Kaba exos supports sever- Secure overview whether someone paid a deposit for a al standards for data import, such as the With keys in particular, it is important to key. Not only does this ensure there will know who has them at any time. Kaba be no gaps in the records,...
Open the catalog to page 2
All Dormakaba catalogs and technical brochures

Archived catalogs
Compare up to 10 products