Catalogs

>

OpenTherm
Catalog excerpts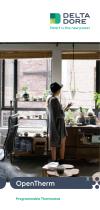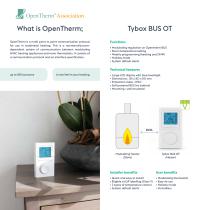 OpenTherm is a multi point to point communication protocol for use in residential heating. This is a nonmanufacturer-dependent system of communication between modulating HVAC heating appliances and room thermostats. It consists of a communication protocol and an interface specification. Functions • Modulating regulation on Opentherm BUS • Room temperature setting • Weekly programming (heating and DHW) • Holiday mode • System default alerts Technical features • Large LCD display with blue backlight • Dimensions : 135 x 80 x 20 mm • Protection index : IP30 • Self powered BUS (no battery) •...
Open the catalog to page 2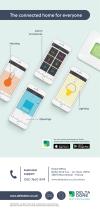 The connected home for everyone Alarm & Cameras Heating Lighting Openings You can already download the Tydom application for free and without subscription technical support Head Office Delta Dore S.A. - Le vieux chêne 35270 Bonnemain - France www.deltadore.co.uk/contact www.deltadore.co.uk COM3701205 - July 2018 - Photo credit : Unsplash | Non-contractual photo. Delta Dore reserves the right to change the information without prior notice.
Open the catalog to page 3
All DELTA DORE catalogs and technical brochures

Compare up to 10 products