Catalogs

>

Sunstar
Catalog excerpts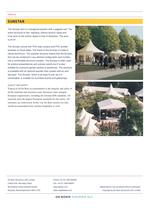 PAGE 2/4 SUNSTAR The Sunstar tent is a hexagonal pavilion with a pagoda roof. The entire structure is free- standing, without tension ropes and inner post so the interior space is free of obstacles. The area is 25 m². The Sunstar comes with PVC side curtains and PVC arched windows on three sides. The frame of the Sunstar is made of robust aluminium. The modular structure means that the Sunstar tent can be combined in any desired configuration and number, into a comfortable structure complex. The Sunstar is often used for product presentations and culinary events but it is also suitable for...
Open the catalog to page 2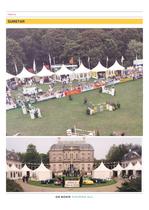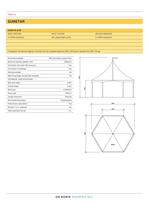 PAGE 4/4 SUNSTAR SUNSTAR 25 M² SIDE CURTAINS ROOF COVERS ARCHED WINDOWS 3 x White translucent Wit/ opaque (light- proof) 3 x White translucent If requested, the bearing capacity of the floor can be increased (plate floor 800/ 1000 kg and cassette floor 600/ 700 kg) Structures available Maximum bearing capacity, floor With and without system floor 500kg/m² Connection with other DB structures Yes Connection to buildings Yes Awning available No Wall lining/swags and pelmets available No TECHNICAL SPECIFICATIONS Side wall height Overall height Wind load 2.400 5.870 0,50KN/m² Snow load 0KN/m²...
Open the catalog to page 4
All De Boer Structures Holding BV catalogs and technical brochures
Archived catalogs
Compare up to 10 products