Catalogs

>

Acropolis
Catalog excerpts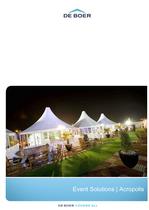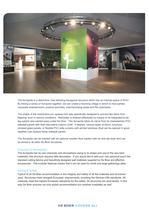 The Acropolis is a distinctive, free-standing hexagonal structure which has an internal space of 97m². By linking a series of Acropolis together, we can create a stunning village in which to host parties, corporate entertainment, product launches, merchandising areas and film premieres. The shape of the membrane-cut, opaque roof was specifically designed to prevent the fabric from flapping, even in stormy conditions. Rainwater is drained effectively by means of an integrated trussleg system and carried away under the floor. The Acropolis takes its name from its characteristic PVC sidewall...
Open the catalog to page 2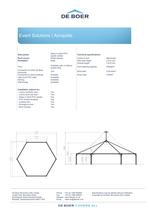 Event Solutions | Acropolis Side panels Roof covers Ventilation Floor Glass or blind PVC panels (white) White opaque Peak Technical specifications Incline of roof Side wall height Overall height Membrane 2.510 mm 7.610 mm Available with or without system floor Floor bearing capacity 500kg/m² Connection to other De Boer structures Connection to fixed buildings Light proof PVC sails Awning Wall linings Yes Wind load 0,50 kN/m2 Possible Available Available Available Snow load 0 kN/m2 Installation options for: - Luxury synthetic door - Luxury push bar door - Glass or blind PVC panels - PVC...
Open the catalog to page 4
All De Boer Structures Holding BV catalogs and technical brochures
Archived catalogs
Compare up to 10 products