Catalogs

>

concast

>

Sports Stadia Brochure
Catalog excerpts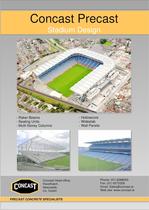 Concast Precast Stadium Design - Raker Beams - Seating Units - Multi-Storey Columns Concast Head office, Hazelhatch, Newcastle, Co. Dublin PRECAST CONCRETE SPECIALISTS - Hollowcore - Wideslab - Wall Panels Phone: (01) 6288055 Fax: (01) 6272326 Email: Sales@concast.ie Web site: www.concast.ie
Open the catalog to page 1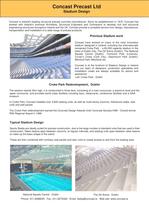 Concast Precast Ltd Stadium Design Concast is Ireland's leading structural precast concrete manufacturer. Since its establishment in 1975, Concast has worked with Ireland's foremost Architects, Structural Engineers and Contractors to develop civil and structural engineering structures throughout Ireland and the UK. Concast provide a complete service from design, manufacture, transportation and installation of a wide range of precast products. Previous Stadium work Concast have worked on many of the most innovative stadium designed in Ireland, including the internationally renowned Croke...
Open the catalog to page 2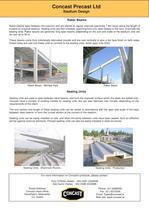 Concast Precast Ltd Stadium Design Raker Beams Raker beams span between the columns and are placed at regular intervals (generally 7-8m bays) along the length of a stand on a typical stadium. Seating units are then installed, spanning from one raker beams to the next, to provide the seating area. Raker beams are generally long span beams (depending on the size and scale of the stadium) and can be cast up to 30 m. These beams come from individually fabricated moulds and are cast vertically to give a fair face finish on both sides. Dowel tubes are cast into these units to connect to the...
Open the catalog to page 3
All Concast catalogs and technical brochures

Compare up to 10 products