Catalogs

>

concast

>

Car Parks Brochure
Catalog excerpts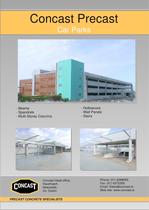 Concast Precast Car Parks - Beams - Spandrels - Multi-Storey Columns Concast Head office, Hazelhatch, Newcastle, Co. Dublin PRECAST CONCRETE SPECIALISTS - Hollowcore - Wall Panels - Stairs Phone: (01) 6288055 Fax: (01) 6272326 Email: Sales@concast.ie Web site: www.concast.ie
Open the catalog to page 1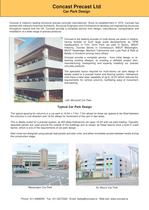 Concast Precast Ltd Car Park Design Concast is Ireland's leading structural precast concrete manufacturer. Since its establishment in 1975, Concast has worked with Ireland's foremost Architects, Structural Engineers and Contractors to develop civil engineering structures throughout Ireland and the UK. Concast provide a complete service from design, manufacture, transportation and installation of a wide range of precast products. Concast is the leading provider of multi-storey car parks in Ireland, having worked on such large scale developments as OPW headquarters in Trim, Omni Park car park...
Open the catalog to page 2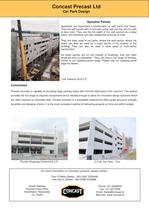 Concast Precast Ltd Car Park Design Spandrel Panels Spandrels are essentially a combination of wall panel and beam. They are wall panels with a concrete corbel cast into the unit, for slab to bear onto. They use the full depth of the wall section as a deep beam, and therefore can take substantial amounts of load. They are often used in car parks, where the wall section above the beam can then be used as a crash barrier in the exterior of the building. They can also be used in most types of multi-storey construction. As these panels are on the outside of buildings, they are often rendered...
Open the catalog to page 3
All Concast catalogs and technical brochures

Compare up to 10 products