Catalogs

>

COMPREX

>

Press Kit Eurocucina 2014
Catalog excerpts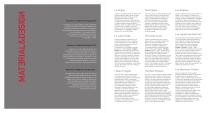 Benvenuti in Material & Design 2014! Il progresso è una spinta interiore che fa comprendere il presente, quando altri lo chiamano ancora futuro. Comprex ha da sempre confidenza con il progresso e ama soprattutto condividere le scoperte e le innovazioni con il suo pubblico. Il suo presente è fatto di nuovi materiali, soluzioni originali e tanta ricerca. Perché rimane costante in Comprex la voglia di migliorare il mondo. Welcome to Material & Design 2014! Progress is an inner strength that helps us to understand the present, when the others still call it future. Comprex has always been in...
Open the catalog to page 2

Contact Presse France: Dominique JAMES dominique.james.clap@wanadoo.fr CLAP communication + 33 (1) 45 79 14 60 COMPREX S.r.l. Via Francesco Crispi, 19 | 31013 Codognè (Treviso) Italy Tel. +39.0438.7961 | Fax. +39.0438.795296 Contact Press The Netherlands: Dorothè de Vroom info@zekerdevroom.nl Zeker de Vroom + 31 (0) 6 51 330 304 comprex.it | comprex@comprex.it C.F. e Iscr. Reg. Imprese TV IT01823620263 R.E.A. TV N. 173714 - Export M/TV 025841 Cap.Soc. € 1.500.000 - i.v. MARCONATO & ZAPPA | PRODUCT DESIGN, INTERIORS | www.marconatoezappa.it COMPREX R&D Silica è un programma espresso dalla...
Open the catalog to page 3
All COMPREX catalogs and technical brochures
Compare up to 10 products