Catalogs

>

All New Island
Catalog excerpts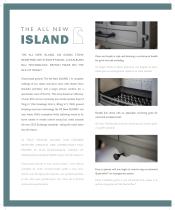 ISLAND THE ALL NEW ISLAND. AN ICONIC STOVE REDEFINED WITH EXCEPTIONAL CLEAN BURN BLU TECHNOLOGY. BRITISH MADE ON THE ISLE OF WIGHT. Clean and simple in style and featuring a cool-to-touch handle for quick and safe re-fuelling. Un design simple et épuré proposant une poignée de porte froide pour un rechargement rapide et en toute sécurité. Charnwood present The All New ISLAND I. A complete redesign of our classic twin door stove with cleaner lines, beautiful symmetry and a larger picture window for a spectacular view of the fire. This stove boasts an efficiency of over 85% and an extremely...
Open the catalog to page 2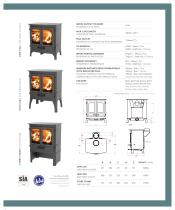 STORE STAND / SUR BOCHER HIGH LEG / SUR PIEDS HAUTS LOW LEG / SUR PIEDS COURTS RATED OUTPUT TO ROOM PUISSANCE A LA PIECE MAX. LOG LENGTH LONGUEUR MAX. DE BOCHE FLUE OUTLET DIAMETRE DU CONDUIT DE RACCORDEMENT CO EMISSION 0.09% - Wood / Bois EMISSION DE CO 0.08% - Solid Fuel / Charbon SMOKE PARTICLE EMISSION 9mg/m3n - Wood / Bois EMISSIONS DE PARTICULES 7mg/m3n - Solid Fuel / Charbon ENERGY EFFICIENCY 85% - Wood / Bois RENDEMENT ENERGETIQUE 78.8% - Solid Fuel / Charbon MINIMUM DISTANCE FROM COMBUSTIBLES WITH INSULATED FLUE DISTANCE MINIMALE AUX MATERIAUX COMBUSTIBLES AVEC UN CONDUIT ISOLE...
Open the catalog to page 3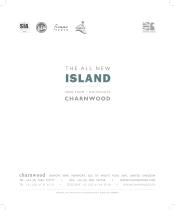 charnwood bishops way, NEWPORT, isle of wight po30 5ws, united kingdom TEL. +44 (0) 1983 537777 • FAX. +44 (0) 1983 537788 • WWW.CHARNWOOD.COM A Division of A.J.Wells & Sons Limited Registered in England No. 03809371
Open the catalog to page 4
All CHARNWOOD catalogs and technical brochures

Archived catalogs

Compare up to 10 products