Catalogs

>

Accessoires:Charnwood Ash Carrier
Catalog excerpts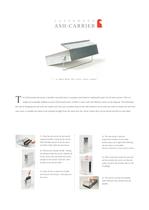 he Charnwood ash-carrier is another neat idea from a company committed to making life easier for all stove owners. This is a simple yet invaluable addition to your Charnwood stove. It offers a clean, safe and effective means of ash disposal. This eliminates the risk of dropping hot ash onto the carpet and saves you countless trips to the cold outdoors every time you need to empty the ash from your stove. It enables hot ashes to be emptied straight from the stove into the carrier where they can be stored and left to cool safely. 1) Place the ash-carrier on the hearth using the handle to prop up the carrier. Take the filled ash-pan from the stove and slide it fully inside the ash-carrier. 4) The ash-carrier's slim-line proportions enable it to be neatly tucked away out of sight whilst allowing the hot ashes to cool safely. (Ensure it is placed on a heat resistant surface) 2) Remove the ash-pan handle - leaving the ash-pan inside the carrier. Clip the lid of the carrier shut and stand the carrier upright on the hearth. Leave for a few seconds to let the ash settle 3) Open the lid, re-attach the handle and recover the ash-pan - returning it to the stove. 5) After several pan loads and once the ash has cooled, the carrier can then be easily carried to the dustbin with no risk of spillage. 6) The carrier can then be emptied, with minimum mess, directly into the dustbin.
Open the catalog to page 1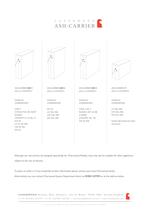 COVE 2, 2B, 3 ISLAND II, IICT, III, IIIB C-SEVEN COUNTRY 14b. 15b CW 50, 50b LA 45ib, 50ib CW 45ib, 50ib DX 45ib, 50ib Includes split ash-pans for easier ash removal Although our ash-carriers are designed specifically for Charnwood Models, they may also be suitable for other appliances subject to the size of ash-pan. To place an order or if you would like further information please contact your local Charnwood dealer. Alternatively you can contact Charnwood Spares Department direct on 01983 537799 or at the address below.
Open the catalog to page 2
All CHARNWOOD catalogs and technical brochures
Archived catalogs

Compare up to 10 products