Catalogs

>

BISOL

>

BISOL Duplex Series
Catalog excerpts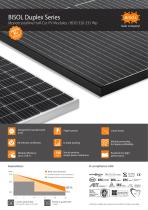 BISOL Duplex Series Monocrystalline Half-Cut PV Modules / BDO 320-335 Wp AND D ED E IGN TUR DES UFAC AN M Lower losses Limited shading Module presorting for higher profitability Higher power Strictly positive output power tolerances Excellent low light performance BISOL Linear Guarantee Standard Industry Linear Guarantee Standard Industry Tiered Guarantee European Recycling Platform 61701 Salt water mist resistance Linear guarantee 85 % power output in 25th year Product guarantee 15 years Certificates available upon special request. Additional charges may apply.
Open the catalog to page 1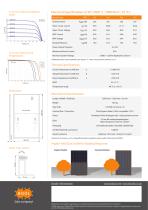 Electrical Specifications @ STC (AM 1.5,1,000 W/m2,25 °C): Module Type BDO 320 325 330 335 I-V Curve at Various Cell Temperatures Nominal Power PMPP [W] 320 325 330 335 Short Circuit Current ISC [A] 9.93 10.02 10.11 10.20 Open Circuit Voltage Voc [V] 40.4 40.6 40.8 41.0 Power Output Tolerance 0/+5 W Maximum Reverse Current 20 A Maximum System Voltage 1,000 V / 1,500 V (Application Class A) Additional power classes available upon request. I Power measurement tolerance: ±3 %. Thermal Specifications: Current Temperature Coefficient a Mechanical Specifications: Length x Width x Thickness...
Open the catalog to page 2
All BISOL catalogs and technical brochures

Archived catalogs

Compare up to 10 products