Catalogs

>

BERA® EquestFix
Catalog excerpts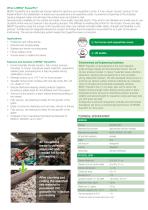 What is BERA® EquestFix? BERA® EquestFix is a versatile yet strong method to reinforce your equestrian zones. It is an unique 'circular' product to be implemented in the stabilization of areas such as paddocks and equestrian yards. It prevents compacting of the subbase causing stagnant water and will keep the surface even and stable to ride. Several pavers available on the market are made of low quality recycled plastic. They tend to be inflexible and smelly due to use of plastic which was not cleaned in the recycling process. The stiffness is creating discomfort for the horses' hooves and...
Open the catalog to page 2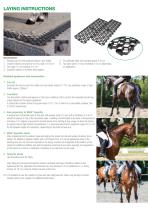 LAYING INSTRUCTIONS Nomenclature: 1. Existing sub-soil with optional 200g/m2 geo-textile 2. Crushed stones and gravel 0-32 mm, layer 10-25 cm 3. Fine split 2-5 mm leveling, 3-5 cm 4. EquestFix sheets in stretcher bond pattern 5. Fix optionally filled with rounded gravel 3-6 mm 6. Top layer sand 0-2 mm, thickness 8-15 cm depending on application Detailed guidance and explanation 1. Sub-soil Excavate the area to reach the stable sub-soil ideally sloped 0.7-1%. Lay optionally a layer of geotextile approx. 200g/m2. 2. Foundation The foundation method will depend on the local conditions of the...
Open the catalog to page 3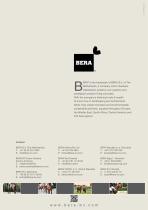 BERA® is the trademark of BERA B.V. of The Netherlands, a company which develops stabilization systems, eco systems and prestigious outdoor living concepts. With the company's historical roots & wealth of know-how in landscaping and architectural fields, they create innovative and environmentally sustainable solutions, supplied throughout Europe, the Middle-East, South Africa, Central America and S-E Asia regions. Contact: BERA B.V. (The Netherlands) T: +31 (0) 33 257 0302 E: info@bera-bv.com BERACR Centro America (Centro America) T: +(506) 87039731 E: centro.america@bera-bv.com BERA B.V....
Open the catalog to page 4
All BERA B.V. catalogs and technical brochures

Archived catalogs
Compare up to 10 products