Catalogs

>

Royale Aspira
Catalog excerpts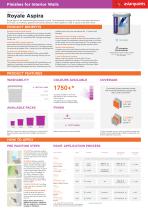 Finishes for Interior Walls PRODUCT CODE 1058 Royale Aspira Royale Aspira is the international gold standard in paints. Technologically, amongst one of the most advanced paints in the world; it is certified by global benchmarking institutions. When applied on walls, it imparts a soft sheen finish. PRODUCT BENEFITS Enhanced Anti-microbial formula The Aspira anti-bacterial, anti-fungal formula retards microbial growth, thus creating a more hygienic and therefore, healthier living environment. It is certified by PRA Coatings Technology Centre, UK Unmatched flame spread resistance Aspira packs enhanced fire safety, security properties. It has the distinction of the slowest flame spread rate in its category.Aspira has received the highest Class 1 rating from Exova Warringtonfire Exceptional Crack Bridging Property Aspira is an elastic film that stretches itself to almost 400%, covering up the hairline cracks and ensuring that they are not visible. Environmentally Responsible This product conforms to international VOC specifications and contains no hazardous raw materials like lead, heavy metals, APEO (Alkylphenol Ethoxylates) and toxic materials as per the guidelines laid out by the International GS -11 (Green Seal) standard. Unsurpassed water beading technology When water comes in contact, it does not wet, penetrate, trickle, or spot. Instead, its hydrophobic nature forces water to roll down as little beads, just as a lotus leaf would do. That translates into is an easy to clean, smooth and highly durable painted surface. WATER BASED Superior Stain Resistance It creates non-porous, high density surface that is almost stain phobic, which essentially means stains are prevented from penetrating to provide easy cleanup and maintenance. * All Asian Paints products contain no added Lead, Mercury, Arsenic or Chromium from April 2008. 5 year Perfromance warranty Aspira is the first product in India to offer a 5 year performance warranty for interiors. The warranty covers film integrity, protection against flaking or peeling, shade fading & fungus attack. It is a mark of reassurance from Asian Paints to the consumer who buys Royale Aspira. PRODUCT FEATURES WASHABILITY COLOURS AVAILABLE BEST IN CLASS HIGH MEDIUM LOW AVAILABLE PACKS On smooth primed masonary surface with brushing followed by sponge roller OR 2 coats by felt roller *Currently available in more than 1750 shades as per the Asian Paints Colour Spectra. * 43 additional Le Corbusier shades available exclusively in Royale Aspira HIGH SHEEN HIGH GLOSS SOFT SHEEN 1 Ltrs Shelf life: 3 years from date of manufacture in original tightly closed containers away from direct sunlight and excessive heat. Refer to sheen levels in technical details **Actual coverage may vary from the quoted coverage due to factors such as method and condition of application and surface roughness and porosity. HOW TO APPLY PRE PAINTING STEPS PLASTER New masonary surfaces must be allowed to cure completely. It is recommended to allow 28 days as the curing time for new masonry surfaces. CLEANING Surface should be free from any loose paint, dust or grease. Growths of fungus, algae or moss should be removed by wire brushing and water. In case of areas having excessive dampness use Asian Paints DampBlock to limit further dampness. When the underlying surface exhibits chalkiness, in spite of thorough surface cleaning, use Asian Paints Exterior Sealer. FILLING FOR CRACKS For filling cracks upto 3mm use Asian Paints Crack Seal. FILLING FOR HOLES & DENTS In case of dents and holes use Asian Paints Acrylic Wall Putty or white cement and fine sand in the ratio 1:3 Royale Aspira should not be applied on surfaces / substrates that are subjected to continuous seepage or dampness. PAINT APPLICATION PROCESS APPLICATION STEP 1 SANDING STEP 2 DECOPRIME WT OR ST PRIMER BRUSH / SPRAY STEP 3 ACRYLIC WALL PUTTY PUTTY KNIFE RECOATING PERIOD SAND THE SURFACE WITH SAND PAPER 180 AND WIPE CLEAN STEP 6 SANDING STEP 7 FIRST COAT ROYALE ASPIRA ROLLER STEP 8 SECOND COAT ROYALE ASPIRA ROLLER SAND THE SURFACE WITH SAND PAPER 180 AND WIPE CLEAN STEP 4 SANDING STEP 5 SELF PRIMING COAT OF ROYALE ASPIRA BRUSH / SPRAY / ROLLER SAND THE SURFACE WITH SAND PAPER 180 AND WIPE CLEAN 1058 1. As measured through a Ford cup. 2. Recoat period is quoted for 25°C and 50% Relative Humidity, these may vary under different conditions.
Open the catalog to page 1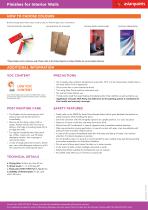 Finishes for Interior Walls HOW TO CHOOSE COLOURS Browse through Asian Paints colour tools to help you find the right colour combination COLOUR SPECTRA FAN DECK* ROYALE BOOK OF COLOURS ROYALE ASPIRA SHADE CARD COLOUR THEME BOOK *These shades are for reference only. Please refer to the Colour Spectra or Colour Palette for correct shade reference ADDITIONAL INFORMATION VOC CONTENT Asian Paints Royale Aspira meets the LEEDS VOC criteria and has been tested and benchmarked to GS11 standards for being VOC safe. PRECAUTIONS > Do not apply when ambient temperature is less than 10°C or if the...
Open the catalog to page 2
All ASIAN PAINTS catalogs and technical brochures

Compare up to 10 products