Catalogs

>

Payment parking • Comfort Parking
Catalog excerpts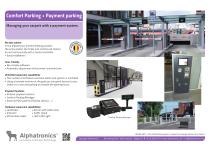 No data cables: In the Alphatronics Comfort Parking system, the entry station, the ticket unit and the exit station do not communicate with a central controller. • Easy installation! User-friendly • No complex software. • Automatic adjustment of the winter/summer time. Unlimited expansion capabilities • The number of entrances and exits within one system is unlimited. • Using a barcode-scanner at the gate you can grant access to your visitors to a secured parking lot outside the opening hours. Payment Systems • Antenor payment column • Comfort Parking Manager • External POS systems (Toshiba, Wincor, ...) Hardware expansion capabilities: • cardreader • barrier with safety loop • Intercom • traffic island Comfort Parking Manager • 2D barcode reader • LED traffic light Innovators in Access Technology 28-08-2017 • The information given is subject to change without any notice. Copyright Alphatronics Brandstraat 8a / 9160 Lokeren - Belgium • P. +32 9 340 54 70 • www.alphatronics.be • info@alphatronics.be
Open the catalog to page 1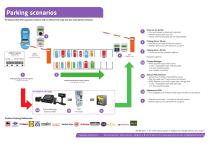 Parking scenarios Parking Comfort offers payment solutions with or without free range and also subscriptions solutions Press on the button -> You will receive a ticket with barcode -> Barrier opens, park your car -> icket valid for example 20 min (adjustable) T Parking time ≤ 20 min -> Present your ticket at the exit column -> arrier opens, you can leave the car park B Parking time > 20 min -> o to one of the payment options G COMFORT PARKING default settings code 20 min. valid Issue Date 16/02/2015 09:46:29 Expiration Date 16/02/2015 10:06:29 ENTRY new ticket (eg. 20 min valid) EXIT...
Open the catalog to page 2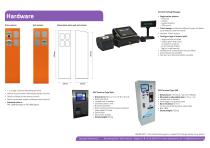 Comfort Parking Manager • 1.2 m high CubeLine operating terminal • OctoLine push button with display (entry column) • OctoLine ticket printer (entry column) • OctoLine barcode reader/swallower (exit column) • Standard colours: RAL 2000 (orange) or RAL 9006 (grey) Dimensions entry and exit column Exit column Entry column POS Terminal Type 300x • Dimensions: 80 x 47 x 31 cm (H x W x D) • Wall mounting • Locked rear or bottom • Stainless steel 2 mm • Brushed finished • Door reinforced with brushed stainless steel plate (1.5 mm) • Safety lock • Four point locking • Empty weight: 50 kg •...
Open the catalog to page 3
All Alphatronics catalogs and technical brochures

Compare up to 10 products