Catalogs

>

URBAN COLLECTION
Catalog excerpts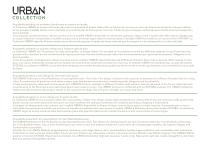 Acquabella presenta un novedoso disefio para el espacio de lavabo. La Colecci6n URBAN es la personificaci6n del estilo cosmopolita. El disefto Urban Chic se basa en la convivencia entre los diferentes estilos de vida que habitan en las grandes ciudades dando como resultado una combinaci6n de Ifneas puras con otras modernas que consiguen ambientes que irradian juventud, elegancia y funcionalidad. Crea espacios contemporkneos, sobrios y serenos con el mueble URBAN, disponible en diferentes acabados: bianco mate o madera de roble natural. Apuesta por un toque industrial incorporando al mueble...
Open the catalog to page 4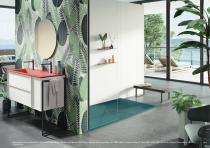 Plato de ducha Smart Quiz NCS S 6020-B30G 200x100 cm / Paneles Zero bianco 240x100 cm / Estantes Show negro Zero NCS 2040-Y80R/ Enclmera Integra SF Slate NCS S 2040-Y80R 120 cm XL/ Mueble Urban bl< Espejo Urban
Open the catalog to page 9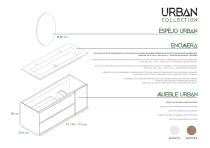 URBAN COLLECTION ESPEJO URBANENCIAERA ESTE MUEBLE PUEDE IR ACOMPAflADO DE CUALQUIERA DE NUESTRAS ENCIMERAS SIEMPRE QUE SE AJUSTE A LOS SIGUIENTES PARAMETROS: LARGO: 80,100 <5120 cm - ANCHO: 46 cm - POSIClQN DEL DESAGOE: CENTRADO CE MEUBLE PEUT ETRE ACCOMPAGNE DE N'lMPORTE QUEL PLANS DE TOILETTE DU MOMENT QUE LES PARAMETRES SUIVANTS SONT RESPECTeS: LONG : 802,100 ou 120 cm - LARGE: 46cm - POSITION DE LA BONDE: CENTREE. NOTE: THIS FURNITURE CAN BE ACCOMPANIED BY ANY OF OUR WORKTOPS AS LONG AS IT CONFORMS TO THE FOLLOWING PARAMETERS: LENGTH: 80,100 or 120 cm - WIDTH: 46 cm - DRAIN POSITION:...
Open the catalog to page 10
All ACQUABELLA catalogs and technical brochures
Compare up to 10 products