Catalogs

>

MOC5241
Catalog excerpts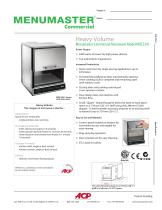 Project #: Item #: Menumaster Commercial Microwave Model MOC5241 Heavy Volume Power Output l 2400 watts of power for high power density l Top and bottom magnetrons. Increased Productivity l Short cook times for single serving applications, up to 42% faster. l Increased throughput by door automatically opening when cooking cycle is complete and remaining open until ready to cook. l Closing door and pushing control pad is one operator motion. MOC5241 shown with door open l Door design does not interfere with kitchen flow. l Small, "jigsaw" shaped footprint allows for back-to-back place- ment on a 724 mm (28 1/2") shelf using only 346 mm (135/8") of space . A shelf extender accessory attaches to an existing shelf to extend it out to 724 mm (28 1/2"). Heavy Volume This category of microwave is ideal for... Applications: Quick service restaurants - single portions, bun warming Easy to Use and Maintain l Control panel located on bottom for convenient access and angled for easy viewing. Through put potential: - melts cheese on burgers in 8 seconds - heats spinach dip from frozen in 1minute 30 seconds - heats macaroni and cheese from frozen in 1 minute 10 seconds l Plug and play operation. l Door extends out for easy cleaning. l ETL Listed for safety. Location of oven(s): - kitchen shelf, single or back to back - kitchen counter, single or back to back Defrost: - defrosts most frozen food products All ACP, Inc. commercial ovens are backed by our Culinary Center. Two units fit back-to-back on a 724 mm (28 ½") shelf in a 346 mm (13 5/8") space Patents Pending 225 49th Ave. Dr. SW Cedar Rapids, IA 52404 U.S.A.
Open the catalog to page 1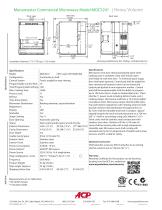 Menumaster Commercial Microwave Model MOC5241 | Heavy Volume side view 19-1/8" (486) 11-3/8" 2-1/2" (289) (64) Drawings available from KCL CADlog - techs@kclcad.com Installation Clearance: 7" (177.79) top, 1" (25.4) sides Specifications Model Configuration Control System Programmable Control Pads Total Programmable Settings Max. Cooking Time Power Levels Defrost Time Entry Option Microwave Distribution Magnetrons Display Stackable Stage Cooking Door Opening Signal Exterior Dimensions Cavity Dimensions Door Depth Usable Cavity Space Exterior Finish Interior Finish Power Consumption Power...
Open the catalog to page 2
All ACP Menumaster Amana catalogs and technical brochures
Archived catalogs

Compare up to 10 products