Free Standing Cooling 2007 -
11 Pages
Cooling
KEEP UP TO 15% MORE FOOD FRESH REASONS TO BUY AZANUSSI-ELECTROLUX
WITH ZANUSSI-ELECTROLUX COOLING RANGE
Zanussi-Electrolux cooling range has been designed to optimize and maximize theinternal storage capacity to give you more space inside. This is possible thanks to the full
height sides and the reduced top and plinth. You can have more usable space with
appliances still fitting perfectly into your kitchen.Zanussi-Electrolux cooling range not only has up to15% extra space, it also has lots of flexiblefresh and frozen food storage options, helping you to optimize this extra capacity even more!
FROST FREE - NO NEED TO DEFROST
Thanks to the frost free technology there is no ice and frost build up.Food is easier to identify, it does not stick together, and ice cubes
stay separate. The structure and nutritional quality are preserved for
longer.
FRIDGE
LARGE CAPACITY GLIDE SALAD DRAWER Allows you to store an unusual large amount of saladand vegetables. The cleverly designed humidity matholds the food away from any moisture keeping it fresher
for longer. And the handy divider has 3 positions for total
storage flexibility. >
TOTAL FRESHNESS CONTROL
The latest cooling technology ensures constant temperature is
maintained throughout the fridge. Not only does this offer complete
storage flexibility, it also ensures maximum food freshness.
Total freshness
GLASS SHELVES >
Keeps your food fresher for longer Easy to wipe glass shelves prevent spillage from
contaminating other food, and are adjustable for extra
storage flexibility SPACE SAVING WINE RACK Stores up to 5 bottles horizontally, saving storage space
and keeping your wine in tip top condition! >
ELECTRONIC CONTROLS LCD
For complete peace of mind our cooling products offer LCD and LED displays
that are easy to see at a glance, showing that all your food is being stored at the
optimum temperature.
Large capcity fridge drawer
Large capcity freezer drawer
FAST FREEZE WITH AUTOMATIC RESET
This simple to select option ensures that newly added food is quickly frozen
preserving its quality. For extra convenience, the freezer returns to normal operating
temperature automatically.
FREEZERS
MAXI BOX Allows you to store extra large items such as a 30lb
Christmas Turkey! And the handles make loading and
unloading really easy. LARGE TRANSPARENT FREEZER DRAWERS The large freezer drawers are transparent so it is easy to
see your freezer contents. FREEZER TRAY Giving you the maximum use of storage space, this useful tray is ideal for ice cubes and perfect for
freezing berries! >
Cooling
15% MORE SPACE THAN MANY OTHER MODELS
37.36. size="-1">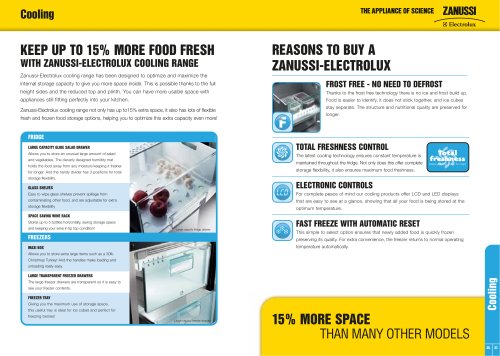 Text version
All Zanussi Home appliances catalogues and technical brochures
Clever Built in Appliances

65 Pages

clever freestanding appliances

59 Pages
Archived catalogues