Built-in Laundry 2007 -
2 Pages
Laundry
WELCOME TO THEJET AGE. ZANUSSI-ELECTROLUXPROGRAMMES & OPTIONS
ZANNUSI-ELECTROLUX TECHNOLOGY.
JETSYSTEM advanced technology washes more like a power shower and less like a soak in thebath, washing clothes thoroughly clean.
COTTONS This standard programme for models with Jetsystem delivers Aђ wash performance for family sized loadsof laundry. >
JETSYSTEM has the added intelligence of saving water &
COTTONS ECONOMY Extending the wash phase of the Cottons programme, this programme delivers Aђ washperformance whilst using minimum energy, saving cost. >
energy as it only uses the right amount needed, from washing the games kit to a pair of jeans.
40C AA Following trends of washing at lower temperatures to care for clothes better, this programme delivers ڑA wash performance and ґA energy rating at a low 40ҰC temperature. >
ZANUSSI-ELECTROLUXLAUNDRY FEATURES
SYNTHETICS To move with the modern day fabric trends, the synthetics programme is suitable for the everydayfabrics such as viscose, polyester and lycra blends. EASY IRON By keeping your wash load moving and introducing a cool down phase with cold water, Easy Ironprotects delicate and synthetic fabrics from developing permanent creases, saving on ironing. >
AQUACYCLE WASH SYSTEM
DELICATES A gentle programme suitable for delicate fabrics such as fine polyester blends. >
Aquacycle wash system uses lifters to pull the water around the drum, ensuring thatthe water and detergent are distributed more efficiently.
HANDWASH For use with Handwash Onlyђ labelled clothing, this is an extremely gentle programme whereby clothesare gently supported in the drum as they are moved delicately through the wash solution. MIN 30C A 30ڰC wash in 30 minutes - ideal for clothes only worn once. Ideal for clothes you need in a hurry. >
QUICK WASH
RINSE The rinse cycle can often be activated to rinse handwashed items, or even as an extra rinse on selected clothes. >
Save time by pressing the Quick Wash button for fast washing results.
EXTRA RINSE OPTION Ideal for anyone with extremely sensitive skin. VARIABLE SPIN SPEED Allows you to alter the spin speed to suit your requirements whilst still ensuring the safe fabriccare of your chosen programme. >
DELAY START - FOR CONVENIENCE
PREWASH For extra dirty clothes, the prewash will loosen the dirt and remove it from the clothes prior to the main wash. >
Jetsystem models feature a Delay Start option of up to 24hrs allowing you to wash
when it suits you or when lower rate electricity is available.
DAILY WASH For lightly soiled clothes this option shortens the wash time by approx. 25 mins but doesntcompromise wash results giving overall ґA wash performance. >
5KG LOAD - Genuine 5kg load offers the largest capacity yet from Zanussi-Electrolux Built-in anditҒs available on both washing machines and washer dryers. ELECTRONIC CONTROLS - All Zanussi-Electrolux Jetsystem washing machines are fully electronicensuring ease of programming with precise control.
QUALITY BUILT IN.
CONSTANT BALANCE SPINNING - Constantly assesses the load during the spinning cycle to ensurefabric is evenly distributed before spinning, reducing noise and vibration and preventing wear and
tear on the fabric and the machine.
SOLID CONSTRUCTION All Zanussi-Electrolux integrated laundry appliances are internally reinforced. This uniquecabinet construction helps decrease vibration, noise and aids access in terms of maintenance. >
LARGE PORTHOLES - Large 42cm portholes across the range - for easier loading and unloading.
STRONG TUBS All Zanussi-Electrolux integrated laundry tubs are made from Hi - Carboran, a unique and incrediblyhard wearing polymer-based material that resists wear and tear but also cuts down on noise and vibration, making
these models some of our quietest ever. SOFT SUSPENSION Zanussi-Electrolux unique shock absorbers reduce vibration transmitted through to the floor andgives a smooth transition, reducing noise. EASY ACCESS FLUFF FILTER Simple to access and clean, without removing the plinth. >
Laundry 63.62. size="-1">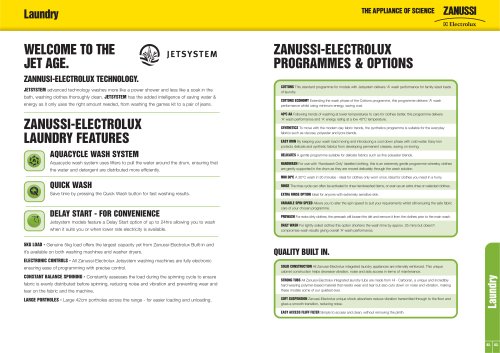 Text version
All Zanussi Home appliances catalogues and technical brochures
Clever Built in Appliances

65 Pages

clever freestanding appliances

59 Pages
Archived catalogues