Built-in hobs 2007 -
6 Pages
Hobs
ZANUSSI-ELECTROLUXHOB FEATURESSPEED SAFETY AND EXCELLENTPERFORMANCE
These days there is a wider range of hobs available than everbefore. Its certainly the case with our range. Ceramic with fastzones, induction for the ultimate in speed and safety, the
exceptional performance of Pureflame gas burners and the
outstanding electric touch gas. The choice is yours.
EASY CLEAN SURFACE All Zanussi-Electrolux hobs are designed to be easy to clean.Ceramic and gas on glass models have easy clean glass surfaces while gas and solidplate models are made with a single monopress surface. There are no dirt traps or tight corners. PUREFLAME BURNERS Zanussi-Electrolux will give you even further improved performancethrough ultra rapid, semi rapid and triple crown burners. >
HOB TECHNOLOGY
TOUCH CONTROL Many of Zanussi-ElectroluxҒs hobs now feature electronic touchcontrols with digital displays which will not only make operation easier but will give you alarge choice of power levels, and makes cleaning really easy. >
Our new touch control gas hob combines the easy clean of aceramic hob with the controllability of gas.Each zone is protected by a safety cut-out if the flame accidentallyblows out. The burner will try to re-ignite itself three times. If afterthis it is not successful the hob will switch off the burner until the user manually switches it back
on, for complete peace of mind.On
HOB CONTROL All Zanussi-Electrolux hobs are designed to have controls that are simple touse, easy to reach and, as with allZanussi-Electrolux products, stylish. >
automatic re-ignition the burner will come on at maximum and then adjust itself to theburner setting selected before the flame extinguished. Each burner has a
ALL SHAPES AND SIZES Zanussi-Electrolux hobs are available in a range of widths,from 60cmto 90cm, the choice is yours. >
99 minutetimer whichautomatically switches off the burner after the set time has elapsed.Combine all of the above with the
VARIETY OF BURNERS With a wide range of small, medium and large burners, along with ourtriple crown burner, Zanussi-Electrolux offersyou maximum heat to ensure all of your wokcooking is prepared to perfection. >
easy clean lines of a gas hob and sturdy pan supports, theZanussi-Electrolux touch control gas on glass hob is at the cutting edge of hob technology.
AUTOMATIC INTEGRATED IGNITION All Zanussi-Electrolux gas hobs feature integrated ignition,meaning that the gas is ignited when the control knob is switched on. FAST ZONES Reacts in under 5 seconds, for fast responsive cooking. PAN SUPPORTS Zanussi-Electrolux gas hobs feature either cast iron fordurabilityorenamel pan supports that allow you to sliderather than lift a pan off the heat. Some modelsalso featurea removable cast iron wok support. >
Hobs 25.24. size="-1">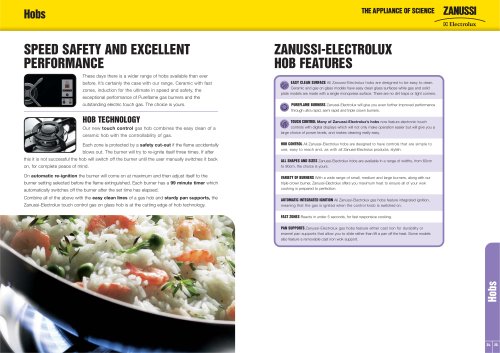 Text version
All Zanussi Home appliances catalogues and technical brochures
Clever Built in Appliances

65 Pages

clever freestanding appliances

59 Pages
Archived catalogues