Built-in Dishwashing 2007 -
4 Pages
Dishwashing
WHY A DISHWASHER?
NORMAL 65C
For the standard everyday wash. >
Zanussi-Electrolux aims to make life easier and a dishwasher will do just that.But not only does a dishwasher do the dishes for youڅ
AUTO 50C - 65ںC - AUTOMATIC PROGRAMME - EASY TO USE
1 .It washes at far higher temperatures and is therefore more hygienic By selecting the Automatic programme, 2 sensors in the dishwasher will adjust the amount of
water intake by recognising the size of the load and how dirty it is. The energy consumption and
duration of the programme are adjusted accordingly to give the best results in the shortest time 2. Research has shown that dishwashers clean 100 x more hygienically than washing by hand* 3. It will take away dishcloths & teatowels that can harbour bacteria and its also so economical. 4. It uses 4 x less water and almost half the energy to clean one wash load* >
(*Source: Nature News Service, Online Science Journal 2003.)
BIO 50ҺC
This ecological cycle is specially designed to use enzyme-based detergents. By prolonging the
washing stage at 50C (the temperature at which the enzymes are released) the same washing
result is achieved as that with an intensive cycle at 65аC, ensuring energy saving and more >
ZANUSSI-ELECTROLUXPROGRAMMES & OPTIONS
delicate treatment of the tableware. >
INTENSIVE 70C DESIGN
This intensive programme at 70ڰC is perfect for difficult cleaning jobs such as pots and pans, andit does it in such a short space of time. Soft Tech - Matching perfectly with the Soft Tech ovens. >
QUICK (30 MINUTES)
Delivers an Aђ rated wash performance at 60C on a freshly soiled load, the best results in just half an hour. >
RINSE & HOLD PROGRAMME
For rinsing items quickly when waiting for a full load to wash. >
GLASS CARE 45кC PROGRAMME
Designed for fine glasses and porcelain. This special cycle runs at 45C to prevent thermal shock
and it also maintains optimal salt/ion content in the decalcified water - handling fine tableware >
THE THOUGHTFUL DESIGN INNOVATOR
carefully, day after day. >
Do you remember the last time you opened a gift that made you say БOh How did you know? Thats exactly what I wanted!ҒThats the kind of feeling that the designers at Electrolux seek to evoke in everyone who chooses or uses one of our
products. We devote time, knowledge, and a great deal of thought to anticipating and creating the kind of appliancesthat our customers really need and want. This kind of thoughtful care means innovating with insight. Not design for designs sake, but design for the users sake. For us, thoughtful design means making appliances easier to use and tasks more enjoyable to perform, freeing ourcustomers to experience that ultimate 21st century luxury, ease of mind. Our aim is to make this ease of mind moreavailable to more people in more parts of their everyday lives, all over the world. So when we say weҭre thinking of you,you know that we mean just that.
DELAYED START - FOR CONVENIENCE
The start of the washing cycle can be delayed by up to 19 hours, depending on the model,
allowing convenient overnight running to take advantage of cheaper electricity tariffs. >
Dishwashers
Electrolux - Thinking of you.
Share more of our thinking at www.electrolux.com 55.54. size="-2">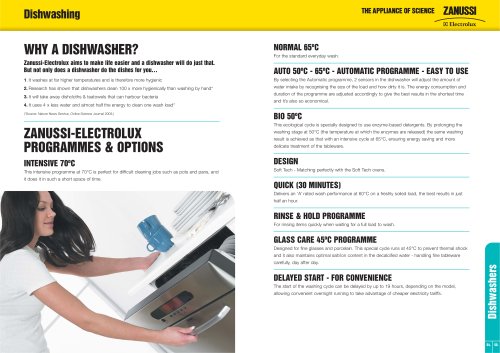 Text version
All Zanussi Home appliances catalogues and technical brochures
Clever Built in Appliances

65 Pages

clever freestanding appliances

59 Pages
Archived catalogues