| | |
| --- | --- |
| | |
Catalogues
News
Exhibitions
Built-in Coolong 2007 -
5 Pages
Cooling KEEPING FOOD FRESHER FOR LONGER ZANUSSI-ELECTROLUXCOOLING FEATURES Great cooking begins with the freshest ingredients. This is whyZanussi-Electrolux cooling appliancesare designed to storethose ingredients safely, keeping them fresher for longer.All Zanussi-Electrolux fridges and freezers are now Aђ energyefficient and all are HFC and CFC free.
F
TOTAL NO FROST TECHNOLOGY In selected fridge freezers the flavour and texture of food is preserved for longer and youcan identify what you are looking for easier, with more efficient food storage and no need todefrostever.The Zi9454X Quattroporte >
Ů and Zi918/9FFA, Total No-Frost fridge freezer bothhave Super Cooling. Switch on before a trip to the supermarket and it will be ready on yourreturn for storing chilled foods safely. The fridge automatically returns to the preset temperatureafter 6 hours. FREEZING FUNCTIONS Various options include Super Freezing on the Zi9454X Quattroporte >
and Zi918/9FFATotal No-Frost fridge freezer. A fast freeze push button with electronic timer on all freezers andselected fridge freezers automatically returns the freezer to the preset temperature, saving youhaving to remember. AUTO DEFROST All Zanussi-Electrolux fridges feature auto defrost. SPOILT FOR CHOICE Our range spoils you for choice and innovation. ThereΒs something to suit every lifestyle;
from the huge four door Quattroporte >
to traditionally sized fridge freezers and built under orin-column models. MINI DAC COOLING FAN The Quattroporte >
ή has a mini DAC cooling fan for even temperature control. STORAGE FOR ALL YOUR NEEDS Zanussi-Electroluxs dairy compartments keep products fresh and untainted by other smells. In column fridges and fridge freezers have two large crisper drawers ideal for keeping salads
and fruit fresher for longer, whilst under counter models have one large crisper drawer with twohinged lids for easy access and maximum use of space. All fridges have flexible glass shelvesmaking cleaning really easy. ELECTRONIC CONTROLS Many models feature electronic controls for ease of use. Some feature an LED display for ғat a
glance peace of mind. >
THE THOUGHTFUL DESIGN INNOVATOR
Do you remember the last time you opened a gift that made you say ԑOh How did you know? Thats exactly what I wanted!ҒThats the kind of feeling that the designers at Electrolux seek to evoke in everyone who chooses or uses one of our
products. We devote time, knowledge, and a great deal of thought to anticipating and creating the kind of appliancesthat our customers really need and want. This kind of thoughtful care means innovating with insight. Not design for designs sake, but design for the users sake. For us, thoughtful design means making appliances easier to use and tasks more enjoyable to perform, freeing ourcustomers to experience that ultimate 21st century luxury, ease of mind. Our aim is to make this ease of mind moreavailable to more people in more parts of their everyday lives, all over the world. So when we say weҭre thinking of you,you know that we mean just that. >
Cooling
Electrolux - Thinking of you.
Share more of our thinking at www.electrolux.com >
45.44. size="-1">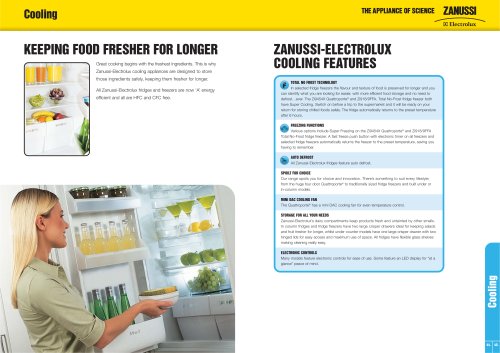 Text version
All Zanussi Home appliances catalogues and technical brochures
Free Standing

60 Pages

Built-in Brochures

68 Pages

Cleaning

9 Pages
Archived catalogues