Booth
XUNLIGHT CORPORATION
Catalogues

News

Exhibitions
XR-36 -
1 Pages
E .g
E 2
5232mm
206.00in
Notes:
1) Values s ha II be measured at Standard Test Conditions after Light-soaking according to IE C Stan da rd
61646.
2) During the first 8-10 weeks of operation, electricaI output exceeds specified ratings. Power output
may be higher by 15%, operating voltage may be higher by 11% and operating current may be higher by
4%.
3) Actual performance may vary up to 10% from rated power due to low temperature operation,
spectral and other related effects. Maximum system open circuit voltage not to exceed 600 VDC in US
installations per UL and may not exceed 1000 volts per IEC for installations elsewhere.
XR-36 1117 A
TM
Laminate
Weight—40 lbs.(18 kg)
Length— 206.0 inches (5232 mm)
Width - 36.13 inches (918 mm)
Thickness- .125" (3.2 mm)



Parameter




Symbol




Units




Value




Maximum

Power




P

r max




Watts




330 W




Voltage at

maximum

power




VD™

v Pmax




Volts




57.9 V




Current at

maximum

power




I Pmax




Amps




5.71 A




Open Circuit

Voltage




Voc




Volts




59.0 V




Short Circuit

Current




Isc




Amps




7.7 A




Nominal

Operating Cell

Temperature




NOCT




°C




46° C




Temperature

Coefficients




Pvoc (at Voc)




%/°C




-0.38% /°C




PVpmax (atVpmax)




%/°C




-0.31 %/°C




disc (at Isc)




%/°C




0.10%/°C




Qlpmax (at Ipmax)




%/°C




0.10%/°C




YPmax (at Pmax)




%/°C




-0.21 %/°C
Thill FillTI Si BaSed MultijunCtiOn PV Module Xunlight Corporation 3145 Nebraska Ave. Toledo, Ohio 43607 Tel. 419.469.8600 Fax 419.469.8601
REV 3 0 5/21 /09 Website: www.xunlight.com
Flexible * Lightweight * Powerful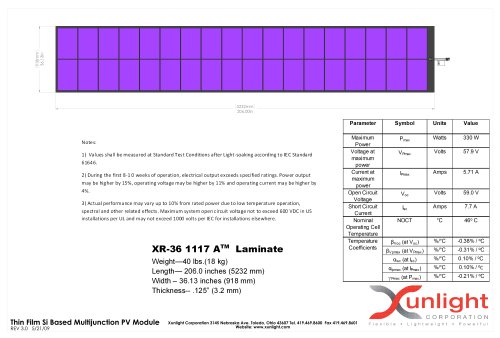 Text version
All XUNLIGHT CORPORATION catalogues and technical brochures
Archived catalogues
XP Series BROCHURE

1 Pages

XR-12

1 Pages