Xpelair directory 2008/09 -
194 Pages
<§)Xpelair

Models

Controllers

Premier DX400 Ref. 91083AW

• Two speed centrifugal fan

• Pre-select speed to suit application

• Alternatively use optional COS switch to change between speeds and On/Off

• Includes external wall grille

Premier DX400T Ref. 91084AW

• Centrifugal fan with timer

• Timer is typically connected to a lighting circuit

• Built in run-on period after the light has been switched Off, user adjustable from 30s-20min

• Fan operates at full speed when light is On, then operates at reduced speed during run-on and the switches to either Trickle or Off (installer selectable)

• 'QuickVisit' delay feature prevents the fan from running should the light be switched On/Off again within two minutes

• Fan running status lights

• Includes external wall grille

Premier DX400PC Ref. 91100AW

• High, Low, On/Off with tricklevent operated by integral 3 position pullcord switch

• Fan running status lights

• Includes external wall grille

Premier DX400RS Ref. 91085AW

• Two speed centrifugal fan

• Pre-select speed to suit application

• Alternatively use optional COS switch to change between speeds and On/Off

• Trickle vent option is activated by a preset switch on the unit

• Fan running status lights

• Includes external wall grille

Premier CF40 Ref. 91086AW

• Condensation Control Range with humidistat

• Automatic operation through integral humidity sensor

• Pullcord selects High, Low, Off or Trickle

Premier CF40TD

Ref. 91807AW

• Automatic operation through integral humidistat

• Pullcord selects High, Low, Off or Trickle

• 'QuickVisit' delay feature prevents the fan from running should the light be switched On/Off again within two minutes

• Fan running status lights

• Includes external wall grille

Premier CF40RSTD Ref. 91088AW

• Automatic operation through integral humidistat

• MOS remote switch (supplied) selects high or low speed and can switch the unit Off (or to tricklevent).

• Built in humidity control run on period

• User adjustable from 30sec-20min

• Fan running status lights

• Includes external wall grille

Note: For kitchen applications a grease filter PDXGF is recommended Ref. 91145AA

Manual Override Switch MOS Ref. 90199AW

• Switch 1 controls the high/low speed levels and Switch 2 controls On/Off and the tricklevent option

5

o

-I—»

c

o Ü

Change Over Switch COS Ref. 90108AW

• Used to select between high and low speed operation

Remote Humidistat XRH Ref. 21856AW

• Stand alone humidistat switches fan On/Off when RH reaches pre-set levels. Complete with pullcord override switch

Remote Time Controller DT20B Ref. 21850AW

• User adjustable run-on timer (2-20mins)

Passive Infrared Sensor XPIRA Ref. 21871AA

• Activates fan via body movement

• Ideal for infrequently used public spaces

• Built in timer to prevent nuisance tripping

Typical Specifications on page 165. Wiring Diagrams on page 183. Remote Sensors on page 56.

cz _o

H—»

co c

CD "D C

o

TD

c

CO

-I—»

ܜ CO

H—»

X CD

CO Z3

-I—»

CD

Performance

DX400 Range

Dimensions (mm)

DX400/CF40 Range

249

CF40 Range

0 20 40

Volume (C.M.F.J

60 80 100 110 120 140

Volume (C.M.F.; 60 80 100

|, 82 ,|,65,|

100

o

IL

o

1000 Spigot

25 SO 75 100 125 150 175 200 225 250

Flow rate in m% -Performance - High Speed

-Performance - Low Speed

-Performance-Trickle

75 100 125 150 175 200 225 250 Flow rate in m%

-Performance - High Speed

-Performance - Condensation Speed 3

-Performance - Condensation Speed 2

-Performance - Condensation Speed 1

-Performance - Trickle Speed

c

(0

o o

Installation and Accessories

0

im

E

ۣ a.

Wall Mounting

Ceiling Mounting

Ducted Applications

Ventilation Shaft Mounting

Hole diameter: Ducting size:

Hole diameter: 117mm Ducting size: 100mm

Installation Accessories

Hole diameter: 117mm Ducting size: 100mm

117mm 100mm

"(5

Installation Accessories

Easy fit kit EFT Wall Tube WD100

Ref. 90427AA Ref. 89543AA

Flat ducting XFP Flexible ducting FD100 Condensation trap XCT100 Vent cowl VC10 Ceiling mounting kit XCMK

see Profile 60 Ref. 89910AA Ref. 89749AA Ref. 89531AA

Ref. 90066AA

a

X

45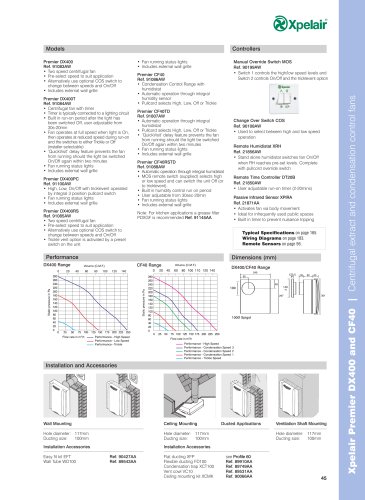 P. 40

Kitchen axial fans Key features The Range For over forty years the Xpelair GX series has remained the specifiers' classic solution...

P. 41

®Xpelair Models Controllers GX6 Ref. 90800AW • Single speed extract fan • Operated by remote switch or...

P. 42

Xpelair GX6 EC2 & GXC6 EC2 Kitchen and Utility room axial fans with UltraEC technology GX6 has a silent backdraftshutter operation using anelectrothermal...

P. 43

®Xpelair Models GX6 EC2 Ref. 92294AW • Extract fan with two installed performance options: Installer selected for Kitchens...

P. 44

Centrifugal extract and condensation control fans Key features The Range Kitchen ventilation has never looked so good. Since its launch, Premier...

P. 46

Xpelair Premier CF20/40T CV Centrifugal extract and condensation control fans NEW Key features The Range Type: Constant Volume UltraEC Centrifugal...

P. 47

<§)Xpelair Models Dimensions (mm) Premier CF20/40T CV Ref.92293AW • Constant Volume centrifugal fan with speed selectable...

P. 48

The Range For many households the kitchen is the busiest room in the home. As well as an area for cooking, it is often the main focal point for family...

P. 49

60 / 90 FlatRef.91200AW / Ref. 91201AW Description: 60/90cm Flat Glass CanopiesFinish: Stainless Steel and GlassDuct size: 125mm Features / Specification...

P. 50

Xpelair Nouvelle Cuisine Kitchen canopies Features / Specification 60/90 ChimneyRef.91194AW / Ref. 91195AW Description: 60/90cm Chimney CanopiesFinish:...
Text version
All Xpelair catalogues and technical brochures
Xpelair Slimline range

12 Pages

ConneX GX EC3 range

2 Pages
Archived catalogues