Xpelair directory 2008/09 -
194 Pages
®Xpelair

Models

Controllers

ChefX Tempo Ref. 91309AA

• Robust design for institutional applications such as student block kitchens and staff rest room food preparation areas

• Brushed stainless steel housing

• 400m3/h extraction capacity @100Pa

• Washable G.S.M mesh filters

• Built in lighting - 1 x 11W CFL

• Top LH outlet

• Built in isolator and speed control with 'on' light

• Centrifugal fan / scroll assembly

ChefX Presto Ref. 91310AA

• For cafeterias, fast food outlets, food preparation and wash up areas

• Stainless steel housing with G.S.M support components

• 2200m3/h extraction capacity @100Pa

• Washable 25mm G.S.M mesh filters

• Top centre outlet to accept rectangular or circular ductwork

• Centrifugal double inlet fan and scroll assembly

• Speed controllable motor

• IPX4 rated motor

• Max ambient temp 65oC

ChefX Mezzo Ref. 91311AA

• Higher duty model for cafeterias, fast food outlets, food preparation and wash up areas

• Stainless steel housing with G.S.M support components

• 2800m3/h extraction capacity @100Pa

• Washable 25mm baffle filters

• Top centre outlet to accept rectangular or circular ductwork

• Centrifugal double inlet fan and scroll assembly

• Speed controllable motor.

• IPX4 rated motor

• Max ambient temp 65°C

Five step auto transformer Ref. 91369AA

• Compatible with Presto and Mezzo models. 6 Amp transformer providing five speed operation. Robust ISO casing and IPX4 rated.

Typical Specifications on page 172. Wiring Diagrams on page 187. Remote Sensors on page 154.

Performance

Presto Volume <CMF>

0 200 400 600 800 1000 12001400160018002000

Ivtezzo Volume (C.M.F.)

0 200 400 600 800 1000 12001400 160018002000

Tempo

Volume (C.M.F.) 0 50 100 150 200 250 300 350 400 I

O) CD

"a.

o

CO o

500 1000 1500 2000 2500 3000 3500 Extract rate m3/h

Presto 1000

200 300 400 500 600 700 Extract rate m3/h

Dimensions (mm)

Tempo

500 1000 1500 2000 2500 3000 3500 Extract rate m3/h

cz

CD -C

-I—»

1^

Mezzo

CO c o '(f)

O)

o

CL

540

X

a

o o

50

460

100

480

Sal

"(5

a

X

400

t I-

1000

101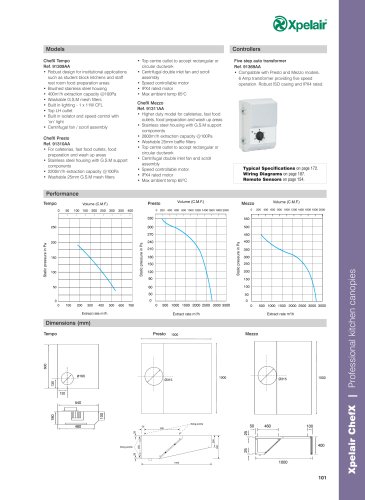 P. 96

Commercial wall fans 48289516 Key features The Range Xpelair WX ventilation units - the 'classic' face of commercial wall fans. Discretely...

P. 97

Models Controllers WX6 Ref. 90822AW WX9 Ref. 89996AWWX12Ref. 90011AW Single Fan Controller FR22/30 Ref. 21868AW > 6Ք high performance extract...

P. 98

Xpelair High performance extract and intake wall fans Key features Type: Commercial duty ventilation unit Application: Pubs, restaurants,...

P. 99

§)Xpelair Models Controllers WXXL350 WXXL400 WXXL450 Ref. 91301AA Ref. 91302AA Ref. 91303AA WXXLS350 WXXLS400 WXXLS450 ...

P. 100

Xpelair ChefX Professional kitchen canopies ChefX Presto and Mezzo canopies arefabricated in brush finish stainless steelcomplete with condensafe channeland...

P. 102

Xpelair Commercial Sensors and Switches Single Fan Controller FR22/30Ref. 21868AW Sliding switchesՕOn/Off2 speeds: low- high speedՕExtract...

P. 103

®Xpelair Xpelair Commercial Accessories Extendible Interlocking Wall Kits WK6 WK6/300 Ref. 90085AA WK6/450 Ref. 90086AA • For...

P. 104

Xpelair Commercial Accessories Air-Replacement Grilles ARGARG20 w200 x h200 mmRef. 89833AA ARG30 w300 x h300 mmRef. 89834AA Fire Blocks FBFB20 w200 x h200...

P. 105

§)Xpelair Xpelair Commercial Accesso Worm Drive Clips WDC Grille Box GB Spigot Plates SP Dia Duct Dia Square...

P. 106

Heating and AirTreatment 106 > Whether at home or work weall try to create just the rightatmosphereђ. It affects ourcomfort, our health and isgood...
Text version
All Xpelair catalogues and technical brochures
Xpelair Slimline range

12 Pages

ConneX GX EC3 range

2 Pages
Archived catalogues