Booth

www.iko.com
Group: IKO
COMMERCIAL & INDUSTRIAL Premium Products Catalogue -
28 Pages
PREVENT MODIFLEX/TORCHFLEX SBS NEW FIRE PROTECTION SAME PHYSICAL PROPERTIES: Same application techniques as regular Modiflex/Torchflex. Same size, weight, cotors and thickness as Modifia/ Torchflex. Avaiiable as a regular stock item. Same great limit٩e warranty coverage as Modifie*/ TorchfWx. ■ Same lonq-iasting performance as Modiflex/Torchflex. INTEGRATING PREMIUM PERFORMANCE AND FIRE RESISTANCE». BYDESIGN At IKO Industries Ltd., we have enhanced the performance of our premium line of SBS Cap Sheets to include the highest tire rsistance rating avaiiable in a root membrane, Class A rated by UL/ULC and FM. Graphite fonctions as a tire retardant due to its spcifie sweliinq effect PREVENT驙 AND PREVENT PREMIUM For d٩cades, we have been manufacturing SBS membranes for the commercial roofing rnarket Our superior quality, innovative design, stringent manufacturng control and attention to dtail have earned us a trusted place withtn the roofing industry. we continue to maintain this leadership position by using Graphite Technology. Contact your IKO Commercial Tethnical repr響sentative for dtails. HOW OUR GRAPHITE TECHNOLOGY WORKS Expandabie graphite is apptied to the upper face of the renforcement mat durrig manufacturing ol the cap sheet membrane. Ihrs graphite is 100% organK, very environmentaliy Iriendly, and will not dissolve m the prsence of water When exposed to high temp驩ratures, it acts as a tire retardant by expanding raptdly. By doing so, it cuts off the supply ol oxygen to the flame and prevents fiquefed asphalt from adding fuel to the fire. it aiso restricts fire from devetoping, making it safer than other similar products. The graphite s not visible when the sheet is installed on the roof; to the eye, a regurar cap sheet looks identical to a PreventTW cap sheet. Often Building codes recuire a class rating lorsurface buninq charactristks: A, BP or C. A ClassArating is the highestrating avaiiable and the most rsistant to (lame propagation. <7^ Flame Spread (UL790, CAN/ULC S107M. FM/ ASTM EI08) : Prevenf" inhibits the spread or travel of flame on the roof. Burning Brands (UL790, CAN/ULC S107M, FM/ ASTM E108) : Prevent stops burning embers from penetrating the roof surface and igniting the building. Intermittent Flame (UL790. CAN/ULC S107M, FM/ ASTM E108) : Prevent陙 resists gusts of flame from spreading or growing on the roof. FM nm On**i mcntotlth rt CMrtk «cK * I MTVm* airti Emmena'm fccitiJtt- *O*tM\tt**0tai *')i:i:v m m QM OU*« MfrtMMM «Kft ■ & m «jp 6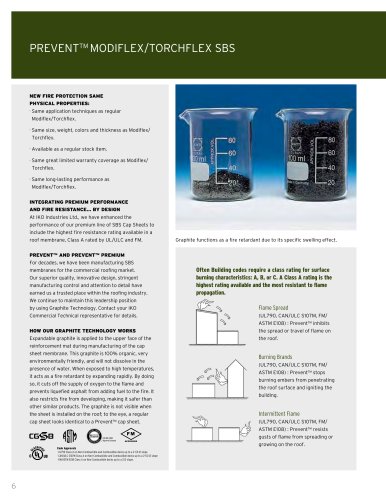 P. 2

For the most current information on IKO's full line of commercial and industrial roofing, waterproofing products and accessories, please visit us online...

P. 3

BODY FOCUSES O ROOFING KE WE DO Today, IKO is a global leader in the manufacture and supply of asphaltic and bituminous waterproofing products, with over...

P. 4

MODIFLEX/TORCHFLEX SBS MODIFLEX MP-CAP TORC HFLX TP-CAP ;v tige en Ttfl Suff .»:r ir Ljc IBS yrrɮf-fl FWDTwr, Modiflex and Torchfiex are...

P. 5

CAP SHEETS Modiflex MP-180-CAP Modiflex MP-250-CAP Modiflex PREVENT MP-180 * Modiflex PREVENTٙ MP-250 * Modiflex PREVENT PREMIUM MP-250 * A tough,...

P. 7

prevENt MODIFLEX PREVENT MP 180, MP 250 TORCHFLEX PREVENTٙ TP 180, AND PREMIuM MP 250 tP 250 And PREMIuM tP 250 characteristics Nominal...

P. 8

MODIFLEX / TOROHFLEX SBS PRODUOT OHART Modiflex / Torchflex is a superior roofing membrane with exceptional elasticity, remarkable cold weather flexibility...

P. 9

FAST-N-WELDTM MEMBRANE SYSTEMS IKO has developed the Fast-N-Weld roof membrane system for application on various roof decks. The two-ply SBS modified bituminous...

P. 10

ARMOURCOOL GRANULAR With the construction industry focusing more on environmentally friendly products, IKO Industries Ltd. is proud to do our part. However,...

P. 11

MODIFIED VAPOR PROTECTOR (M.V.P) IKO M.V.P. is a self-adhering membrane used over various types of roof decks such as steel, concrete and wood. This product...
Text version
All www.iko.com catalogues and technical brochures
Archived catalogues