Booth

www.iko.com
Group: IKO
COMMERCIAL & INDUSTRIAL Premium Products Catalogue -
28 Pages
IKO ASPHALT PRIMERS iKO MOD-BIT PRIMER  Solvent-based. Օ Acceptable surfaces include concrte, masonry, wood, gypsum, metal and asphalt roofing.  Prepare surfaces for torching and mopping membranes. 蕕 Quick-drying.  Enhanced membrane adhesion. Օ Applied with brush, roller or spray.  Application temperature > -12°C. Օ Coverage approximately 4-7 m2/L (0.4-0.6 gal/100 ft2)*.  Dry time approximately 1 hour. m \՗ -n A O X m O «D1PHA PRIVhP IKO SPRAY PRIMER ϕ Solvent-based.  Acceptable surfaces include concrete, masonry, wood, gypsum, metal and asphalt roofing. Օ 482 g spray aerosol can.  Application temperature > - IO°C. Օ Coverage approximately 3m2 (32 ft2)per can *.  Fast-drying - 3 minutes to touch and 60 minutes to complete dry. IKO STANDARD ASPHALT PRIMER Օ Solvent-based.  Acceptable substrates include concrete, masonry, wood, gypsum, metal and asphalt roofing. Օ Prepare surfaces prior to application of hot asphalt.  Applied with roller, brush or spray. Օ Application temperature > -12°C.  Coverage approximately 1.5-2.4 rm/L (1-1.7 gal/100 ft2)*. Օ Dry time approximately 2-4 hours. K O > > a o m < m K O A en Tl X > \ ח\ P M m ;o en * Depending on the porosity of the substrate. 23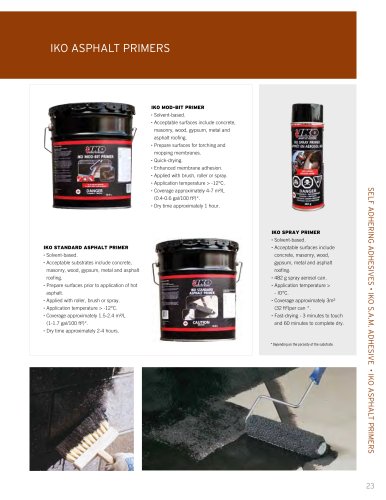 P. 18

IKOTHERM III POLYISOCYANURATE IKOTherm III is a rigid, polyisocyanurate foam insulation with high thermal properties. It is constructed from a closed cell...

P. 19

ENERFOIL POLYISOCYANURATE INSULATION SHEATHING In today's climate of soaring energy costs and a renewed awareness for environmental conservation, the building...

P. 20

ADDITIONAL BENEFITS OF ENERFOIL WALL SYSTEMS INCLUDE: Decreases the cost of construction by saving both materials and labor. Allows designers to reduce...

P. 21

COLD GOLDTM COLD-APPLIED ROOFING SYSTEM iKO COLD GOLD ADHESIVE IKO COLD GOLDٙ Adhesive is a solvent-free, single component, cold process roofing...

P. 22

SELF ADHERING ADHESIVES IKO S.A.M. ADHESIVE solvent based surface prep iKO S.A.M. ADHESIVE SOLVENT BASED SURFACE PREP IKO S.A.M. Adhesive is a quick-drying,...

P. 24

MS DETAIL single component instant flashings using iko ms detail iKO MS DETAIL IKO has done it again. We've come up with a great solution to all those...

P. 25

PROTECTOBOARD asphaltic panels Protectoboard is a dimensionally stable roofing board that can be mechanically fastened, hot asphalt applied, or installed...

P. 26

PROTECTOBOARD roofing and re-covery board APPLICATION GUIDE Re-covery Board Over Existing Roofs When installed over existing roofs, Protectoboard provides...

P. 27

AQUABARRIER RELY ON iKO FOR SUPERIOR BUILDING ENVELOPE INTEGRITY IKO AquaBarrierٙ AVB, IKO AquaBarrierTM FP, IKO AquaBarrier TWF, IKO AquaBarrierٙ...

P. 28

Thank you (or considering IKO Premium Roolirq productS. For addilional information on IKffs full line of superior Commercial/lndustrial Roofing and Waterprootlnq...
Text version
All www.iko.com catalogues and technical brochures
Archived catalogues