Booth
WMF coffee machines
PRESTO -
13 Pages
WMF AG Coffee Machines International
D-73312 Geislingen/Steige, Germany
Phone: +49 73 31 - 25 8 482 · Telefax: +49 73 31 - 25 8 792
e-mail: professional@wmf.com · Internet: http://www.wmf.com
OA 2861 # 63 8003 0391 Printed in Germany 06.0803.09
Series
Daily output
1 or 2 coffee bean hoppers
Chocolate powder or topping powder reservoir
Twintopping-hopper
(Choc- und Topping powder)
Rated power
External dimensions (width/height/depth)
Empty weight
Continuous sound pressure level (Lpa)*
Model »First Class«
WMF ... welcome world of coffee
* The A-weighted mean sound pressure level Lpa (slow) and Lpa (impulse) at the operator's workplace is below 70 dB(A) in every operating mode
We reserve the right to make technical changes. Printing errors and omissions anywhere in the content excepted.
100 cups
each approx. 500 g, or optionally each approx. 1000 g
(large central coffee bean hopper not possible)
each approx. 500 g
each approx. 500 g
1/N/PE - 50 Hz/230 V
323 mm / 668 mm (with bean hopper) / 555 mm
approx. 30 - 40 kg
<70 dB (A)
WMF ... welcome world of coffee
coffee wakes up the world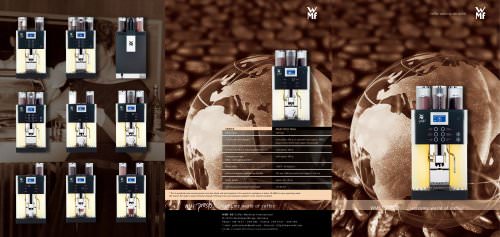 P. 2

Self-explanatory displayThe display guides you through themachine, step by step. It also showsall the operating sequences as wellas useful information.Slim...

P. 3

Welcome to the world of the new WMF presto! coffeemachine. Millions of people all over the world agree onone thing: the best way to start the day is with...

P. 4

BolognaEspresso EspressoMacchiatoCaffé latte Cappuccino Latte Macchiato Café CrèmeItalian-style specialities, perfect qualityChoc Chociatto4...

P. 5

WMF PRESTO ... hot chocolate madewith Swiss precisionZermattTop-quality chocolate is undisputed a Swissspeciality. And top-quality hot chocolate isundisputed...

P. 6

In the land of the rising sun, tea is part ofthe traditional culture. But coffee specialitiesare becoming increasingly popular there, too.The WMF presto!...
Text version
All WMF coffee machines catalogues and technical brochures
Archived catalogues