Booth
WMF coffee machines
PRESTO -
13 Pages
WMF PRESTO ... hot chocolate made
with Swiss precision
Zermatt
Top-quality chocolate is undisputed a Swiss
speciality. And top-quality hot chocolate is
undisputed a speciality of the new WMF presto!.
All the variations, from Choc to Chociatto, are
now even easier to prepare.
The milk, coffee, chocolate and water for each
individual recipe are very easy to program. Create
a speciality of your own. Deliciously chocolaty, at
the touch of a button – with lots of fresh milk. All
with the reliability and precision of a Swiss watch.
6 | 7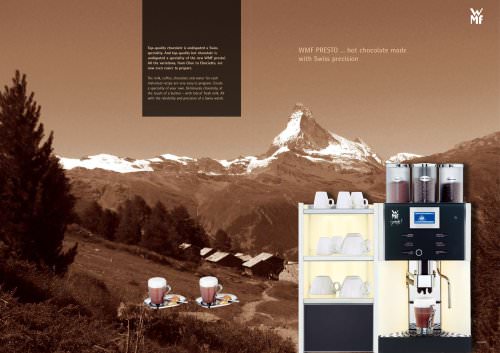 P. 1

WMF AG Coffee Machines InternationalD-73312 Geislingen/Steige, GermanyPhone: +49 73 31 - 25 8 482 · Telefax: +49 73 31 - 25 8 792e-mail: professional@wmf.com...

P. 2

Self-explanatory displayThe display guides you through themachine, step by step. It also showsall the operating sequences as wellas useful information.Slim...

P. 3

Welcome to the world of the new WMF presto! coffeemachine. Millions of people all over the world agree onone thing: the best way to start the day is with...

P. 4

BolognaEspresso EspressoMacchiatoCaffé latte Cappuccino Latte Macchiato Café CrèmeItalian-style specialities, perfect qualityChoc Chociatto4...

P. 6

In the land of the rising sun, tea is part ofthe traditional culture. But coffee specialitiesare becoming increasingly popular there, too.The WMF presto!...

P. 7

Good coffee is an important cultural asset.That's clear. And good coffee from the atmosphericWMF presto! coffee machine is a real highlight.And now:...

P. 8

Be honest now: while it's very niceto have a bar to oneself, isn't iteven nicer with a partner?The WMF presto! is so cost-effectiveand compact...

P. 9

Life used to be simple, for there were no decisions to bemade. There was only one choice and that was the rightone. In today's fast-paced world,...

P. 10

WMF PRESTO ...makes even self-service simple16 | 17 in the swabian regionWith the appropriate accessories, your WMF presto! canmake things even easier...
Text version
All WMF coffee machines catalogues and technical brochures
Archived catalogues