Booth
WMF coffee machines
PRESTO -
13 Pages
Bologna
Espresso Espresso
Macchiato
Caffé latte Cappuccino Latte Macchiato Café Crème
Italian-style specialities, perfect quality
Choc Chociatto
4 | 5
The unique Barista button now makes it even easier to satisfy
your clients' individual requirements. Simply press the touch
screen button to have the next coffee prepared stronger or
weaker, as your client desires.
In addition, the preheater function ensures that even after
an extended idle time, the first Espresso is really hot. All the
parts in contact with the coffee are heated to the correct
temperature on command. With the WMF presto! you always
get perfect coffee, as made by a Barista.
From the classic Espresso to Latte Macchiato, coffee
speciality trends come from Italy. With the WMF presto!
you get the authentic Italian taste as well. Close your eyes
when you sip and you can almost feel the warm summer
night on a piazza somewhere in Italy. Sheer zest for life,
a wonderful aroma and of course, always - presto, presto!
WMF PRESTO ...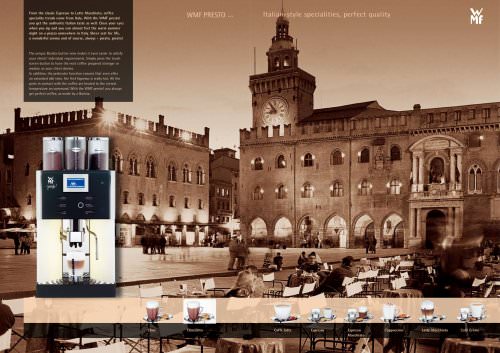 P. 1

WMF AG Coffee Machines InternationalD-73312 Geislingen/Steige, GermanyPhone: +49 73 31 - 25 8 482 · Telefax: +49 73 31 - 25 8 792e-mail: professional@wmf.com...

P. 2

Self-explanatory displayThe display guides you through themachine, step by step. It also showsall the operating sequences as wellas useful information.Slim...

P. 3

Welcome to the world of the new WMF presto! coffeemachine. Millions of people all over the world agree onone thing: the best way to start the day is with...

P. 5

WMF PRESTO ... hot chocolate madewith Swiss precisionZermattTop-quality chocolate is undisputed a Swissspeciality. And top-quality hot chocolate isundisputed...

P. 6

In the land of the rising sun, tea is part ofthe traditional culture. But coffee specialitiesare becoming increasingly popular there, too.The WMF presto!...

P. 7

Good coffee is an important cultural asset.That's clear. And good coffee from the atmosphericWMF presto! coffee machine is a real highlight.And now:...

P. 8

Be honest now: while it's very niceto have a bar to oneself, isn't iteven nicer with a partner?The WMF presto! is so cost-effectiveand compact...

P. 9

Life used to be simple, for there were no decisions to bemade. There was only one choice and that was the rightone. In today's fast-paced world,...
Text version
All WMF coffee machines catalogues and technical brochures
Archived catalogues