AirMover 3 -

2

/ 2 Pages
Performance Features
Technical Specifications
Model Number:

AM3

WH3

Construction:

Rotationally molded polyethylene with molded offset handle and cord wrap

Same

Motor:

0.5 hp (373 watts), continuous duty, capacitor start, thermally protected, with four-point mount

Same

Fan Wheel:

9.6" (24 cm) dia.x9.1" (23 cm) wide

Same

Fan Speeds:

High - 1600 rpm

Same

Medium - 1350 rpm

Same

Low - 1050 rpm

Same

Airflow:

High - 3000 cfm (84 m3/min.)

Same

Medium - 2500 cfm (70 m3/min.)

Same

Low - 2000 cfm (56 m3/min.)

Same

Power Cable:

25 ft (7.6 m) 16/3 SJTW with three-wire molded plug

Same

Electrical:

120voltAC, 60 Hz

Same

Dimensions:

Length

20" (51 cm)

22.8 (58 cm)

Width

16" (41 cm)

16" (41)

Height

18.8" (48 cm)

21.5 (55 cm)

Weight:

33.5 lbs (15 kg)

39 lbs (18 kg)

Approvals:

UL Listed to U.S. and Canadian safety standards

Same
• A selection of three air movement speeds provides maximum performance needed for each job.
• Built-in carpet clip makes it easy to dry floors under carpets.
Specifications are subject to change without notice.
• Airmover 3 offers three standing positions to allow air to be directed at different angles.
Windsor Industries manufactures a full line of innovative floor maintenance equipment including:
• Carpet Extractors & Chemicals
• Vacuum Products
• Floor Scrubbers and Sweepers
• Floor Machines and Burnishers
WINDSOR'
a Castle Rock Industries company
l351W.Stanford.Ave. Englewood,C080110USA www.windsorind.com 800-444-7654
© 2005 Windsor Industries, Inc. All rights reserved.
A-401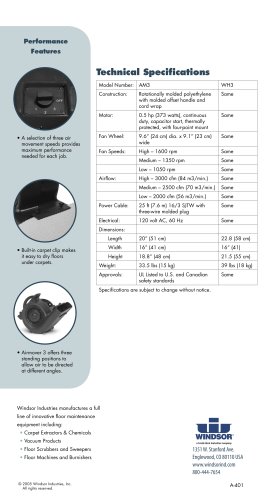 Text version
All WINDSOR catalogues and technical brochures
Archived catalogues