Booth:
VORWERK
Flyer Inspiration -
2 Pages
inspiration
object collection
Inspiration. Creations to makeyou feel at home.
designs in an array of different sizes. The inter-nationally acclaimed textile designer Ulf Moritz
was responsible for the collections design and has
created solutions to fulfil the most demanding
expectations in terms of interior design, ambience
and functionality. Sensitive to trends, he has
proved once again that he is a Ҕcarpet virtuoso.
Be that modern or timeless.The inspiration collection is a distinctiveexpression of individuality. The designs inspire
creativity, personality and originality. The
collection highlights a range of fascinating new
interior designs including avant-garde. Enjoy
these wonderfully extrovert and progressive Introducing the inspirationcollection, a range of fascinating carpets.
VKF-Nr. 903987 01/07 Vorwerk & Co.Teppichwerke GmbH & Co.KG |Kuhlmannstraӟe 11 | D-31785 HamelnTelefon 0049 (0) 51 51/103 734 | Fax 0049 (0) 51 51/103 517www.vorwerk-carpet.com | export@vorwerk-teppich.de >
Vorwerk Carpets. And they last longer than we would like.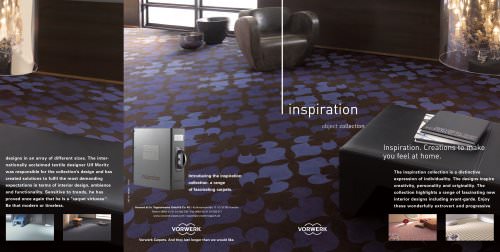 Text version
All VORWERK catalogues and technical brochures
Archived catalogues