Uno -
12 Pages
There was a priceless look on her face when she saw it in person. I never wouldhave believed it if I hadnӒt seen it with my own eyes. I always believed that the only
way to create a Team Tasking Environment was to invest in a less flexible casegoods
line. Who would have thought that by linking tables with just the right accessories you
could create such a functional unit? Versteel, of course.
DETAILS, UNO CHROME T-BASE WITH POLISHED BASE CAP AND UNO X-BASE WITH MULTI-COLORED COMPONENTS.
RIGHT, UNO TEAM TASKINGSTATION. ELECTRIFICATION,DATA ACCESS AND WIRE MANAGEMENT.
2 >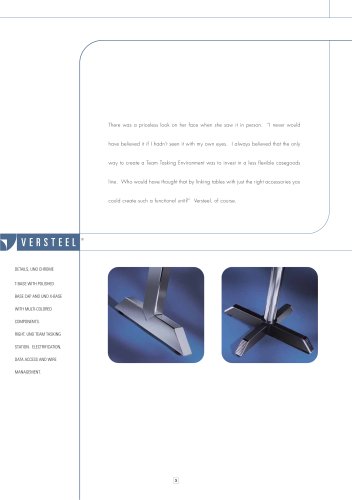 P. 1

UNO MORETHANATABLE >

P. 3

UNO SYNERGY >

P. 4

UNO UNIQUE 4 >

P. 5

How do you design a table top and base to be the focal point of a room? Top detailsthat match base details...materials that contrast and complement. Versteel...

P. 6

UNO UNEXPECTED >

P. 7

It always amazes me how often designers stereotype a particular line. To me, one of thegreat thrills of specifying is being able to create the unexpected.Ӕ...
Text version
All Versteel catalogues and technical brochures
Archived catalogues