General catalogue 2008 -
120 Pages
Take me back
Verner Panton (1926-1998), the Danish designer who made Switzerland his home, was much more than a master of sixties design. Even though he favoured extravagant designs and the use of strong, vibrant colors, his work was unmistakably rooted in the elegant functionalism of the 1950s. And notwithstanding the fertile imagination and love of experimentation his work demonstrates, he remained a systematic designer thoughout his entire life, who was not content to merely create individual objects, but sought to develop a collection and design the entire room. As such, it is hardly surprising that Verner PantonҒs extraordinarily comprehensive and diverse work, to which the Vitra Design Museum is now devoting a far-reaching retrospective, is thought to constitute a considerable contribution to the development of design in the second half of the 20th century. >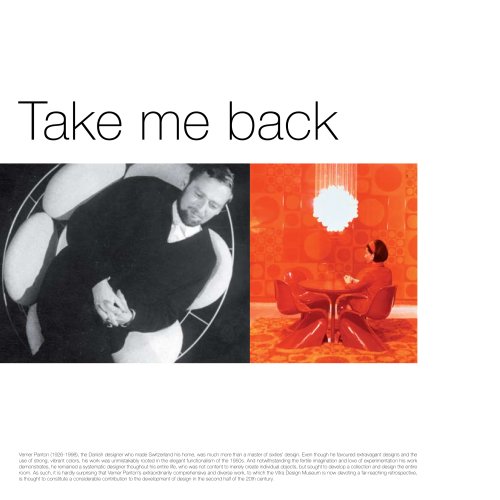 P. 25

Mikano Restaurant, Made by ECC, New Zealand >

P. 26

26 >

P. 27

Hotel SAS Radisson, Dsseldorf, Made by Matteo Thun >

P. 28

We are alsoProud of AC-Hotels, SpainCarton House, IrelandFairmount Hotel, DubaiGrand Hyatt, Washington DCHotel Jakob Gade, DenmarkKk Woman, The NetherlandsKrokowski,...

P. 31

31 >

P. 32

In spite of its close formal resemblance to the VP Globe, the Panto Lamp creates a very different light quality. Its use of lighting techniques is comparable...

P. 33

33 >

P. 34

34 >

P. 35

The very size of the VP Globe (available with a diameter of between 40 and 50 cm) meant that it was largely used as a single lamp. In some cases, however,...
Text version
All VerPan catalogues and technical brochures
Archived catalogues