Booth:

VAILLANT
Group: Vaillant Group
climaVAIR -
24 Pages
Split Type Installation Manual EN 3
1 Your Safety
1.1 Symbols used
Danger!
Direct danger for life and health.
Danger!
Danger of electric shock.
Warning!
Potentially dangerous situation for the product
and the environment.
Note!
Useful information and indications.
1.2 Correct Use of the Unit
This unit has been designed and manufactured for the
sole purpose of comfort cooling and heating occupied
residential and commercial premises. The use thereof
for other domestic or industrial purposes shall be the
exclusive responsibility of the persons specifying,
installing or using them in that way.
Prior to handling, installing, start up, using or
performing maintenance on the unit, the persons
assigned to perform these tasks should be familiar with
all the instructions and recommendations set forth in
the unit's installation manual.
Note!
Keep the manuals throughout the service life of
the unit.
Note!
The information relating to this unit is divided between
two manuals: installation manual and user manual.
Your Safety 1
Extreme operating conditions 2
Identification of the Unit 3
Note!
The relevant personnel performing any service of
maintenance operations involving the handling of
the refrigerant fluid must have the necessary
certification to comply with all local and
international regulations.
2 Extreme Operating Conditions
This unit has been designed to operate within the range
of temperatures indicated on Figure 2.1. Ensure that
these ranges are not exceeded.
REFRIGERACIÓN CALEFACCIÓN
Interior
Exterior 43ºC D.B.
18ºC D.B.
24ºC D.B.
-7ºC D.B.
32ºC D.B.
18ºC D.B.
30ºC D.B.
15ºC D.B.
Fig. 2.1 Operating ranges of the unit.
Legend
D.B. Temperature measured by dry bulb
Note!
The working capacity of the unit changes
depending on the working temperature range of
the outdoor unit.
3 Identification of the Unit
This manual is valid for the Split system series. In order
to know the specific model of your unit please refer to
the unit nameplates.
The nameplates are located on the outdoor and indoor
units.
Note!
This equipment contains R-410A refrigerant. Do
not vent R-410A into atmosphere: R-410A, is a
fluorinated greenhouse gas, covered by Kyoto
Protocol, with a Global Warming Potential (GWP)
= 1975.
Note!
The refrigerant fluid contained in this
equipment must be properly recovered for
recycling, reclamation or destruction before
the final disposal of the equipment.
Indoor
Outdoor 45ºC D.B.
0ºC D.B.
17ºC D.B. 17ºC D.B.
30ºC D.B.
24ºC D.B.
-15ºC D.B.
COOLING HEATING
30ºC D.B.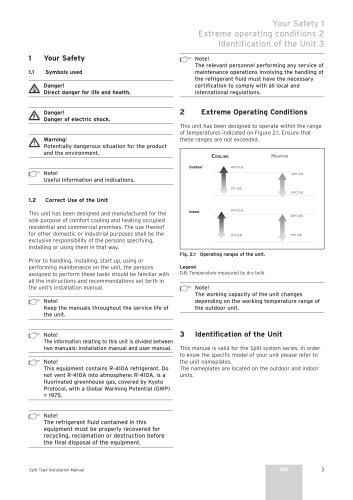 P. 1

VAM 2-050 W2NVAM 2-060 W2NVAM 2-085 W3NVAM 2-110 W4NclimaVAIRDE, EN, HR, IT, TR

P. 3

For the fitterVAM 2-050 W2NVAM 2-060 W2NVAM 2-085 W3NVAM 2-110 W4NInstallation ManualAir-conditioner - climaVAIRSplit TypeEN

P. 4

2ContentsSplit Type Installation ManualContents1 Your Safety . . . . . . . . . . . . . . . . . . . . . . . . . . . . .31.1 Symbols used . . . . . . . ....

P. 6

4 Split Type Installation Manual4 Declaration of ConformityThe manufacturer declares that this unit has beendesigned and constructed in compliance with...

P. 7

Split Type Installation Manual EN 55.2 Outdoor UnitThe outdoor unit ensures that the absorbed heat isreleased to the outside from the room during operationin...

P. 8

6 Split Type Installation Manual5.3 Infra red ControllerThe remote control allows using the unit.5.4 Valve ConnectionsThis outdoor unit has the following...

P. 9

Split Type Installation Manual EN 75.6 Technical SpecificationsUnits VAM 2-050 W2N VAM 2-060 W2N VAM 2-085 W3N VAM 2-110 W4NPower supply V/Ph/Hz 230/1/50Cooling...

P. 10

8 Split Type Installation Manual6 TransportDanger of injury and physical damage!During transport and unloading, the unit couldfall and injure anyone within...
Text version
All VAILLANT catalogues and technical brochures
Commercial range brochure

45 Pages
Archived catalogues
rotary controllers

1 Pages

climaVAIR air conditioning

10 Pages

Consumer brochure

6 Pages