Booth
USG
USG Acoustical Assemblies Brochure -
40 Pages
31 USG Acoustical Assemblies
Steel Framed
RC-1 channel sealant sound insulation
zinc control
joint no. 093
SHEETROCK Brand
corner reinforcement
SHEETROCK Brand
joint reinforcement
1/2" SHEETROCK
Brand FIRECODE C core
gypsum panels
3" sound insulation
metal
furring clip
sound insulation extended
4'-0" min. beyond
each side of partition
SHEETROCK Brand
acoustical sealant
partition ceiling runner
screw-attached to
furring channel
Corner wall partition
Sound isolating interrupted ceiling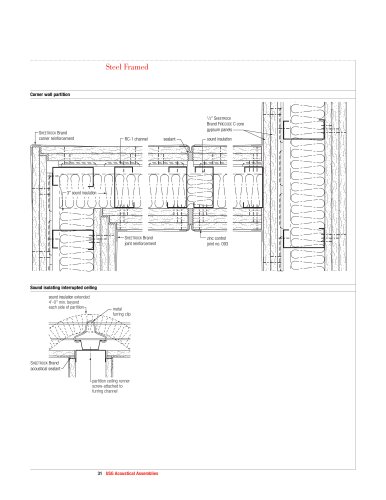 P. 26

26 USG Acoustical AssembliesFloor/CeilingsWood FramedBDimensional Lumber Acoustical Performance Fire Performance ReferenceConstruction Detail Description...

P. 27

27 USG Acoustical AssembliesDesign DetailsWood FramedSHEETROCK Brandacoustical sealant1/4" SHEETROCKBrand gypsumpanel1/2" SHEETROCK BrandFIRECODE coregypsum...

P. 28

28 USG Acoustical AssembliesDesign DetailsWood FramedSHEETROCK Brandgypsum panel2x4 wood studRC-1 resilientchannel or equivalentSHEETROCKBrandacousticalsealantRC-1...

P. 29

29 USG Acoustical AssembliesSteel Framedrunnermetal trimrequired forfire ratingdrywallscrewdrywallscrewSHEETROCK Brandgypsum panel1/2" max. 3/8"21/2"SHEETROCK...

P. 30

30 USG Acoustical AssembliesDesign DetailsSteel FramedTypical cabinet attachmentZ-furring 24" o.c.steel studsteel runnerRC-1 resilientchannel or equivalentsound...

P. 32

32 USG Acoustical AssembliesDoorway Placement – Avoid Doorway Placement – BetterHVAC Design – AvoidHVAC Design – AvoidHVAC Design...

P. 33

33 USG Acoustical AssembliesResilient Channel Wall Framing – Avoid Resilient Channel Wall Framing – RecommendedElectrical Boxes – AvoidElectrical...

P. 34

34 USG Acoustical AssembliesFlanking Path DetailsInterrupting Flanking Paths–Multifamily ConstructionJoists AtticAdjacent Bathrooms Adjacent KitchensSHEETROCK...

P. 35

35 USG Acoustical AssembliesAcoustical Panel – Exposed Grid Acoustical Panel – Concealed GridAcoustical Tile – Adhesive Attachmenthanger...

P. 36

36 USG Acoustical AssembliesGood Design PracticesIn most building design, the No. 1 acoustical goal is to specify wallpartitions, ceiling systems and floor/ceiling...
Text version
All USG catalogues and technical brochures
Archived catalogues