Booth
USG
Drywall steel-framed-systems-catalog -
52 Pages
B Fire Rated 4 Hour Assembly, Steel Stud Partition, UL Design U419 or U435—Four layers of 1/2 SHEETROCK Brand
Gypsum Panels are required on both sides of the metal stud. Vertical joints staggered over the studs. Panels
installed either horizontally or vertically. The first layer is installed to the studs with 1 Type S screws. The second
layer is attached to metal studs through the first layer with 1-5/8 Type S screws. The third layer is attached to the
metal studs through the first and second layers with 2-1/4 Type S screws. The fourth layer is attached to the metal
studs, through the first, second, and third layers, with 2-5/8 Type S screws. The first layer starts its screw pattern
5 from the top and bottom of the wall, with a maximum spacing of 48 on center. The second and third layers start
4 and 3 from the top and bottom of the wall, respectively, and maintain the same vertical spacing as the first
layer. The fourth layer is located 2 from the top and bottom of the wall and is spaced 12 o.c. Each fourth layer
horizontal board end joint shall be attached to the studs with screws spaced 1/2 from panel joint and 12 o.c.
vertically. The fourth layer is also attached to the second and third layers with 1-1/2 Type G screws located midway
between adjacent studs and 1 from the joint. All gypsum panel end joints and edge joints are to be staggered.
3.1.5 SHEETROCK Brand Gypsum Panels, ULTRACODE Core, Erection
A Fire Rated 2 Hour Assembly: Steel Stud Partition, UL Design U419 or U491—Install steel stud framing system as
described in Section 3.1.1 using minimum 3-1/2 studs and friction fit 3 THERMAFIBER SAFB as described in
Section 3.1.3. When 3/4 SHEETROCK Brand Gypsum Panels, ULTRACODE Core, are applied vertically, wrapped
edges shall be installed parallel to and fully supported by steel framing. Attach panels to studs using 1-1/4 long
(Type S) (Type S-12) drywall screws spaced 8 o.c. along panel edges and ends and 12 o.c. along intermediate
framing. Stagger horizontal board joints a minimum of 12 on opposite sides of the partition.
B Fire Rated 3 Hour Assembly: Steel Stud Partition, UL Design U419—Install steel stud framing system as described
in Section 3.1.1 using minimum 1-5/8 25 ga. studs. When base layer of 3/4 SHEETROCK Brand Gypsum
Panels, ULTRACODE Core, is applied vertically, wrapped edges shall be installed parallel to and fully supported by
steel framing. Attach panels to studs using 1-1/4 long (Type S) (Type S-12) drywall screws spaced 24 o.c.
along all framing. Stagger horizontal board joints a minimum of 12 on opposite sides of the partition. Face layer
of 3/4 thick SHEETROCK Brand Gypsum Panels, ULTRACODE Core, is applied horizontally with wrapped edges perpendicular
to steel framing. Stagger horizontal panel end joints minimum 12 from base layer panel joints. Attach
panels to steel framing using 2-1/4 long (Type S) (Type S-12) screws 12 o.c. along all framing. Offset face
layer screws from base layer screws by 1. Secure face panel to base panel along the horizontal joints of the
face layer with 1-1/2 long Type G screws located midway between steel framing (24 o.c.) and 1 from horizontal
joint. Stagger face panel joints a minimum of 12 on opposite side of the partition.
C Fire Rated 3 Hour Assembly: Steel Stud Chase Wall, UL Design U436—Align two parallel rows of floor and ceiling
runners spaced 2 apart. Attach to concrete slabs with concrete stub nails or power-driven anchors 24 o.c.
Position steel studs vertically in runners, 24 o.c. with flanges in the same direction, and with studs on opposite
sides of chase directly across from each other.
Cut cross bracing made from gypsum panels, 12 high by chase wall width. Place between rows of studs.
Space braces 48 o.c. vertically and attach to stud webs with six 1 Type S screws per brace. If larger braces are
used, space screws 8 o.c. max. on each side.
Bracing of 2-1/2 steel studs may be used in place of gypsum panels. Anchor web at each end of steel brace
to stud web with two 3/8 pan head screws. When chase wall studs are not opposite, install steel stud cross
braces 24 o.c. horizontally and securely anchor each end to a continuous horizontal 2-1/2 runner screwattached
to chase wall studs within the cavity.
Apply base layer of 3/4 SHEETROCK Brand Gypsum Panels, ULTRACODE Core, with vertical joints parallel to and
fully supported by steel framing. Attach panels to studs using 1-1/4 long (Type S) (Type S-12) drywall screws
spaced 24 o.c. along all framing. Stagger board joints a minimum of 12 on opposite sides of the partition. Apply
face layer of 3/4 thick SHEETROCK Brand Gypsum Panels, ULTRACODE Core, horizontally with wrapped edges perpendicular
to steel framing. Stagger panel end joints 24 from base layer panel joints. Attach panels to steel framing
using 2-1/4 long (Type S) (Type S-12) screws 12 o.c. along all framing. Offset face layer screws from base layer
screws by 1. Secure face panel to base panel along the horizontal joints of the face layer with 1-1/2 long Type G
screws located midway between steel framing (24 o.c.) and 1 from horizontal joint. Stagger face panel joints by
24 on opposite side of the partition. Alternatively, face panels may be installed vertically with wrapped edges parallel
to and fully supported by framing. Attach face panels to steel framing using 2-1/4 (Type S) (Type S-12) screws
spaced 12 o.c. Stagger joints in face and base layer by a minimum of 12.
D Fire Rated 4 Hour Assembly: Steel Stud Partition, UL Design U419 or U490—Install steel stud framing system as
described in Section 3.1.1 using minimum 2-1/2 25 ga. studs and friction fit 2 THERMAFIBER SAFB as described
in Section 3.1.3. Apply base layer of 3/4 SHEETROCK Brand Gypsum Panels, ULTRACODE Core, with vertical joints
parallel to and fully supported by steel framing. Attach panels to studs using 1-1/4 long (Type S) (Type S-12) drywall
screws spaced 24 o.c. along all framing. Stagger board joints a minimum of 12 on opposite sides of the partition.
United States Gypsum Company SA923 46
Drywall/Steel
Framed Systems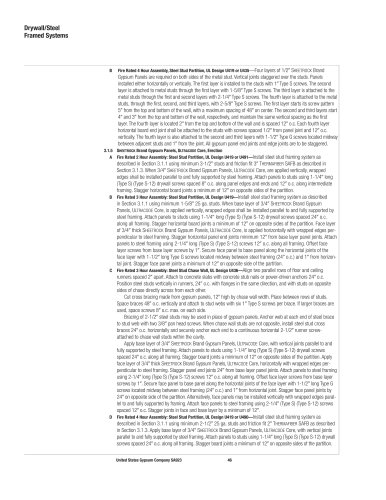 P. 41

15 SHEETROCK Brand Exterior Exposed surfaces should receive two coats of good quality exterior paint. First coat: oil-based primer; second coat:Gypsum...

P. 42

Sheathing should be broken behind control joints. Where vertical and horizontal joints intersect, the vertical jointshould be continuous and the horizontal...

P. 43

Part 1: 1.1 Specify to meet project requirements.General Scope1.2 All materials described in this Folder manufactured by or for United States Gypsum Company...

P. 44

H Metal Furring MaterialsMetal Furring Channel (DWC-25)(DWC-20)Metal Furring Channel Clip (use with DWC-25 only)Z-Furring Channel (1)(1-1/2)(2)(3)RC-1...

P. 45

3.1.2 Resilient Channel ErectionPosition RC-1 Resilient Channel (or equivalent) at right angles to steel studs, space 24 o.c. and attach to studflanges...

P. 47

Apply face layer of 3/4 thick SHEETROCK Brand Gypsum Panels, ULTRACODE Core, horizontally with wrapped edgesperpendicular to steel framing. Stagger panel...

P. 48

3.3.2 Gypsum Panel PreparationSelect length and cut panel so one unbroken panel covers curved surface and 12 tangents at each end. Outsidepanel must be...

P. 49

framing, space 48 o.c. and attach to each framing stud with two pan head framing screws. At hangers, install12 long stud section for box reinforcing or...

P. 50

3.8.6 UL Design X507-4 hr.For all W14 x 228 steel columns, provide fire protection with double-layer 1/2 SHEETROCK Brand Gypsum Panels,FIRECODE C Core,...

P. 51

around sheathing perimeter at interface with other materials and install flashing as indicated on the drawings. (Installasphalt felt or Grade D 60-min....
Text version
All USG catalogues and technical brochures
Archived catalogues