Natural Bamboo -
7 Pages
The Natural Bamboo® Wovens Collection surpasses ordinary strand
woven bamboo with our easy-to-maintain Natural-ETM Natural Oil Finish
that enhances the natural beauty of each bamboo plank. Engineered to
perform, Wovens Collection floors are twice as hard as oak and suitable
for heavy commercial use.
• Trendsetting colors in unique one of a kind natural oil finish
• Select CorbooTM styles infused with cork strands for distinctive visual and improved
sound reduction
• Natural-ETM Natural Oil Finish becomes more beautiful over time
• Easy to clean and can be spot repaired if necessary
• Lifetime Wear Warranty / Lifetime Structure Warranty
• 15 Year Heavy Commercial Warranty for Strand Woven floors
• Contributes to LEED credits for Rapidly Renewable Materials and Low Emissions
• Meets E0 and CARB standards for Low Formaldehyde Emissions
Corboo Horizontal Natural Bamboo®
Charcoal
606WSO4
Oyster
606WNO6
Antique Spice
606WSOHS
Natural
606WNO
Aqua
606WNO5
Spice
606WSO
Walnut
606WSO2
Chocolate
606WSO3
CorbooTM
Horizontal
606WSOHC
CorbooTM
Mahogany
606WSOHC1
CorbooTM
Walnut
606WSOHC2
CorbooTM
Vertical
606WSOVC
Mahogany
606WSO1
CorbooTM is a patent-pending product by USFloors Inc.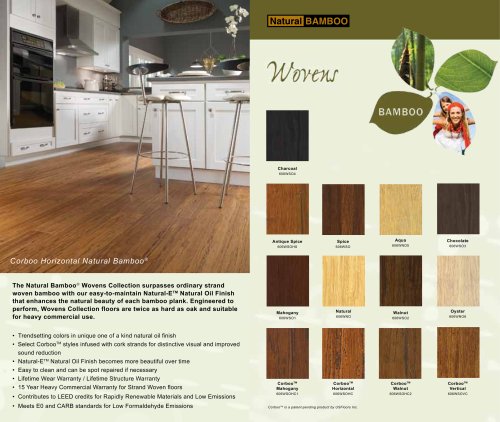 Text version
All US FLOOR catalogues and technical brochures