Booth:
tossB
BIG FINAL -
2 Pages
Het idee van de 'final cut' vloeit voort uit een buis waarvan beide uiteinden onder
gelijke hoeken maar in verschillende richtingen afgesneden zijn. Een simpel gegeven
dat toch een gevarieerd en decoratief beeld weergeeft. De 'final cut' geeft zowel
boven als onder licht waardoor het decoratieve effect versterkt wordt. Daarenboven
benadrukt dit het verschil tussen de boven- en onderzijde. Het raffinement van de
hanglamp komt nog beter tot uitdrukking als er meerdere exemplaren naast elkaar
hangen.
Le concept <final cut> se matérialise par un tuyau dont les deux extrémités sont
découpées selon un angle identique mais avec une orientation différente. Un petit
détail qui offre néanmoins un rendu varié et décoratif. Le <final cut> éclaire tant vers
le haut que vers le bas, ce qui renforce l'effet décoratif. En outre, cela accentue
la différence entre les côtés supérieurs et inférieurs. Le raffinement de ce lustre
s'exprime encore mieux lorsque plusieurs de ceux-ci sont suspendus les uns à côté
des autres.
The concept of the "final cut" originates from a pipe of which both ends are cut
under equal angles but in various directions. A simple design which creates both
a varied and decorative image. This decorative aspect is intensified by the up and
down light of the "final cut". The refinement of this hanging lamp will be expressed
even more if you hang several fixtures side by side. In combination with the beveled
edges, this allows you to create a very playful atmosphere.
Die Idee hinter ,final cut' ist ein Rohr, das an beiden Seiten zwar im gleichen Winkel,
allerdings in unterschiedliche Richtungen zugeschnitten wird. Eine schlichte
Tatsache, die allerdings das dynamische und dekorative ÀuBere pràgt. Das
Licht strömt sowohl unten als auch oben aus der ,final cut' und verstàrkt so den
gestalterischen Effekt. Zudem wird so der unterschiedliche Schnitt an Ober- und
Unterseite deutlich unterstrichen. Das Besondere dieses Leuchtobjekts kommt noch
besser zu Geltung, wenn mehrere Exemplare nebeneinander aufgehàngt werden.
final cut
design by peter van de water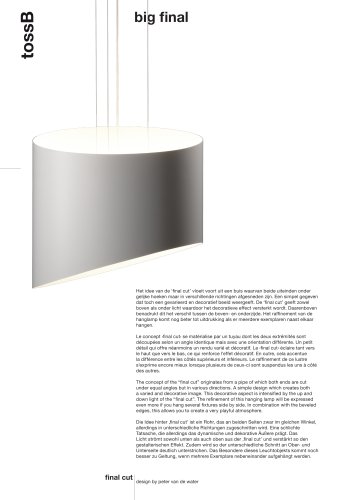 P. 2

230V3×60Wwhite paintedmax 2500E2745Ø100big finalT68H4IWL600optional difusoropalkarveelstraat 28380 zeebrugge, belgiumT +32 (0)50 54 35 49F...
Text version
All tossB catalogues and technical brochures
Archived catalogues