Booth
tossB
BIG BANG 5 -
4 Pages
Collectie spots waarbij de nadruk ligt op techniek en beweegbaarheid. Elk onderdeel
heeft een welbepaalde functie waardoor de vormentaal als eerlijk en niet opdringerig
overkomt. Daardoor integreert de BANG zich in alle mogelijke omgevingen en is zo
makkelijk toepasbaar. Uitgevoerd in geborsteld aluminium toont de Bang zich in
een industriële en karaktervolle gedaante. In de gelakte uitvoering wordt het accent
verlegd naar de elegante, vloeiende lijnen. De Bang is verkrijgbaar voor 12V- of 230V-
dicroïdelampen.
Collection de spots où l'accent est placé sur la technique et la mobilité. Chaque
élément possède une fonction bien déterminée pour laquelle le langage des formes
se révèle franc sans toutefois être envahissant. Le BANG s'intègre donc dans tous les
environnements possibles et peut donc être utilisé facilement. Exécuté en aluminium
brossé, le Bang adopte une forme industrielle et pleine de caractère. En version peinte,
l'accent est alors placé sur les lignes élégantes et fluides. Le Bang est disponible pour
des lampes dichroïques de 12V ou de 230V.
Spot collection with an emphasis on technique and mobility. Every part has a definite
function, which provides for a candid and non-intrusive design. Because of this, BANG
fits in any possible environment, which makes application easy. In brushed aluminium
finish, Bang creates a bold 'industrial' impression. Then again, in enamel finish, its
elegant fluent lines are emphasised. BANG is available for 12V or 230V dicroid lamps.
Bei diesen Kollektionsspots stehen Technik und Beweglichkeit zentral. Jedes Teil hat
eine bestimmte Funktion, wodurch die Formen ehrlich und nicht aufdringlich wirken.
So passt BANG zu jeder Umgebung und ist die Leuchte leicht einsetzbar. Bang wurde
aus gebürstetem Aluminium angefertigt und erhielt so ein industrielles, charaktervolles
Aussehen. In der lackierten Ausführung stehen elegante, flieBende Linien im
Vordergrund. Bang ist mit dikroitischen 12-V- Oder 230-V-Lampen erhàltlich.
big bang
design by alain monnens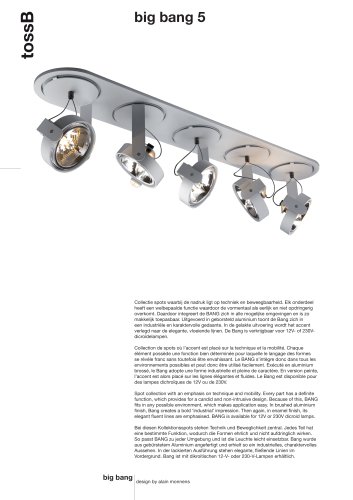 Text version
All tossB catalogues and technical brochures
Archived catalogues