Booth
Tonwerk Lausen AG
swing -
14 Pages
T-ONE SWING BEDIENUNGSANLEITUNG TONWERK SPEICHEROFEN INSTRUCTIONS D'UTILISATION DU POELE ACCUMULATION TONWERK T-ONE STONE - OPERATING INSTRUCTIONS TONWERK STORAGE HEATING STOVES T-BACK ISTRUZIONI PER L'USO DELLA STUFA D'ACCUMULO TONWERK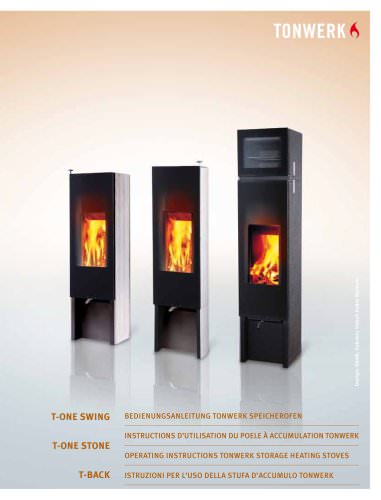 P. 2

d TONWERK-SPEICHERÖFENAUSZEICHNUNGEN:• Design Preis Schweiz• MUT-Umweltpreis, Auszeichnung fürumweltfreundliche Entwicklungen•...

P. 3

eENGLISH CONTENTS1. TONWERK STORAGE HEATING STOVE – A SWISS QUALITY PRODUCT1.1 The storage heating stove1.2 The radiated heat2. INTERESTING FACTS...

P. 4

1. TONWERK STORAGE HEATINGSTOVE – A SWISS QUALITY PRODUCTThank you for buying a Tonwerk storage heating stove – we are sure you willderive...

P. 5

Wood does not contributeto the greenhouseeffect!iWood is stored solarenergy.iWOOD – NATURAL ANDPRACTICAL!2. INTERESTING FACTS ABOUT WOOD ANDTHE ENVIRONMENTCO2CO2O2O22.2...

P. 6

2.3 BUYING FIREWOODWhere can I get my firewood?BUYING READY-TO-BURN FIREWOODRegenerated ready-to-burn firewoodcan be purchased from dealers:• stove-ready,...
Text version
All Tonwerk Lausen AG catalogues and technical brochures
brochure

25 Pages
Archived catalogues