Booth
Tonwerk Lausen AG
swing -
14 Pages
d TONWERK-SPEICHERÖFEN
AUSZEICHNUNGEN:
• Design Preis Schweiz
• MUT-Umweltpreis, Auszeichnung für
umweltfreundliche Entwicklungen
• red dot award, für hohe Designqualität,
Designzentrum Nordrhein-Westfalen
• VHe-Qualitäts- und Gütesiegel für
typengeprüfte Speicheröfen
• Eidgenössischer Preis für Gestaltung,
Produktdesign
• Design Plus, ISH Frankfurt
DISTINCTIONS OBTENUES PAR LES
POELES À ACCUMULATION TONWERK:
• Design Preis Schweiz (Prix du Design
Suisse)
• MUT-Umweltpreis (Prix de
l'environnement MUT), distinction
accordée aux développements
écologiques
• red dot award, pour un design de
haute qualité, Centre du design de
Rhénanie du Nord-Westphalie
• Certifié par un sceau de qualitéVHe
en tant que poêle à accumulation
homologué
• Eidgenössischer Preis für Gestaltung,
Produktdesign (Concours Swiss
Design Prize, design du produit)
• Design Plus, ISH Francfort
TONWERK STORAGE HEATING STOVES
AWARDS:
• Design Preis Schweiz (Switzerland
Design Award)
• MUT Umweltpreis, award for
ecofriendly developments
• red dot award, for high designquality,
Design Centre of North Rhine-Westphalia
• VHe seal of quality and appr oval for
type-approved storage heating stoves
• Eidgenössischer Preis für Gestaltung
(Swiss Federal Design Award),
product design
• Design Plus, ISH Frankfurt
PREMI RICEVUTI DALLE STUFE
D'ACCUMULO TONWERK:
• Design Preis Schweiz (premio
svizzero per il design)
• MUT-Umweltpreis, premio per lo
sviluppo ecologico
• red dot award, premio per il design di
alta qualità del centr o di design della
Renania Settentrionale-Vestfalia
• VHe marchio di qualità per le stufe
d'accumulo omologate
• Eidgenössischer Preis für Gestaltung,
Produktdesign (premio elvetico per la
forma, il design dei pr odotti)
• Design Plus, ISH Frankfurt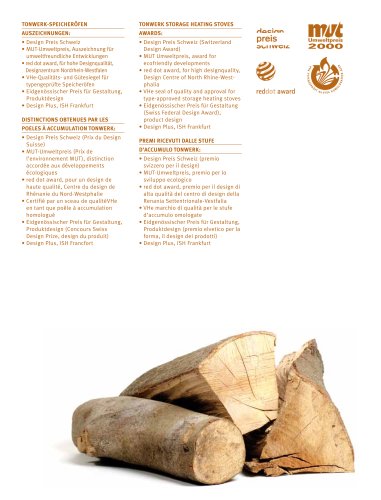 P. 1

T-ONE SWING BEDIENUNGSANLEITUNG TONWERK SPEICHEROFEN INSTRUCTIONS D'UTILISATION DU POELE ACCUMULATION TONWERK T-ONE STONE - OPERATING INSTRUCTIONS TONWERK...

P. 3

eENGLISH CONTENTS1. TONWERK STORAGE HEATING STOVE – A SWISS QUALITY PRODUCT1.1 The storage heating stove1.2 The radiated heat2. INTERESTING FACTS...

P. 4

1. TONWERK STORAGE HEATINGSTOVE – A SWISS QUALITY PRODUCTThank you for buying a Tonwerk storage heating stove – we are sure you willderive...

P. 5

Wood does not contributeto the greenhouseeffect!iWood is stored solarenergy.iWOOD – NATURAL ANDPRACTICAL!2. INTERESTING FACTS ABOUT WOOD ANDTHE ENVIRONMENTCO2CO2O2O22.2...

P. 6

2.3 BUYING FIREWOODWhere can I get my firewood?BUYING READY-TO-BURN FIREWOODRegenerated ready-to-burn firewoodcan be purchased from dealers:• stove-ready,...

P. 7

2.7 WHAT HAPPENS WHEN WOOD BURNSBurning or combustion is a rapid oxidation of substances forming flames. When woodburns, the oxygen in the air combines...
Text version
All Tonwerk Lausen AG catalogues and technical brochures
brochure

25 Pages
Archived catalogues