Sabaudo Collection: Benches -
10 Pages
>
ITALIAN URBAN DESIGN
BENCHES / Bänke / Bankjes
>
>
© Andrea Barghi
VERS. 04/05/12
This brochure is printed on Matt plus Fedrigoni Symbol FSC certified paper, made of pure ecologic ECF (Elemental Chlorine Free) cellulose, with an elevate content of selected recycled material.
Broschüre gedruckt auf FSC-zertifiziertem Fedrigoni-Papier «Symbol plus Matt», hergestellt aus reinem ökologischen ECF-Zellstoff (Elemental Chlorine Free), mit hohem Gehalt an Recyclingpapier.
Brochure geprint op Fedrigoni symbol Matt plus FSC gecertificeerd papier dat geproduceerd is van pure ecologische cellulose ECF (Elemental Chlorine Free) met een groot percentage gerecycled materiaal.
169.00-B
ITALIAN URBAN DESIGN
www.aluhabitat.it
TLF s.r.l.
Via del Molino, 42 - 52010 CORSALONE (AR) ITALY
Tel (+39) 0575.53171 - Fax (+39) 0575.5317200 - info@tlf.it
www.tlf.it
The dimensions of the equipment in this catalogue can vary by +/-5% with regards to what is indicated.
TLF reserves the right to modify any of it's products where necessary for better quality, both dimensional and structural.
Die angegebenen Maβe der Produkte dieses Katalogs können um +/-5% variieren.
TLF behält sich das Recht vor, inhaltliche und maβliche Änderungen von Geräten aufgrund technischer oder qualitativer Weiterentwicklung sowie Änderungen im Design vorzunehmen.
De afmetingen van de voorwerpen die in deze catalogus beschreven worden, kunnen +/ - 5% variëren ten opzichte van de aangegeven afmetingen.
TLF behoudt zich het recht elk product te wijzigen als dit noodzakelijk blijkt om de kwaliteit wat betreft de afmetingen en de structuur ervan te verbeteren.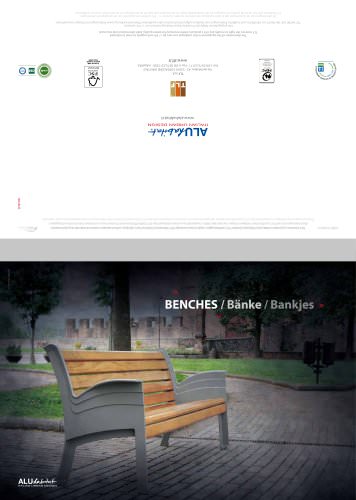 P. 2

>Lestrusa BENCH >>ART.100011LESTRUSA BENCHBench in extruded aluminium,design "Studio De Ferrari Architetti"dimensions (mm): 2000x620x765ART.100011BANK...

P. 3

>Sabaudo BENCH >>ART.100311SABAUDO BENCHBench in cast aluminiumand natural ash wood,design "Studio De Ferrari Architetti"dimensions...

P. 4

>Sabaudo BENCH >>ART.100411SABAUDO BENCHART.100421SABAUDO BENCHarmchair in cast aluminiumand natural ash wood,design "Studio De Ferrari...

P. 5

>Jesolo PICNIC TABLE >>ART.101503 (101513)JESOLO PIC-NIC TABLEART.3.110/B2 (3.110/C2)JESOLO BENCHsteel (stainless steel) structure andtop surface...

P. 6

>Jesolo TABLE WOOD >>ART.101501JESOLO TABLEART.101511JESOLO TABLEsteel structure andtop surface in pine wood,design "Remo Zanchetta"dimensions...
Text version
Archived catalogues