Booth

ThyssenKrupp Access
Group: ThyssenKrupp Elevator
Catalogues

News

Exhibitions
RA 750 residential lift -
2 Pages
ThyssenKrupp
ThyssenKrupp Access
Residential Vertical
Platform Lift
by ThyssenKrupp Access
Providing Access to Your Home
Providing unequalled value by offering
products of the highest quality,
complimented by unrivaled
customer service.
An affordable solution when stairs become a barrier.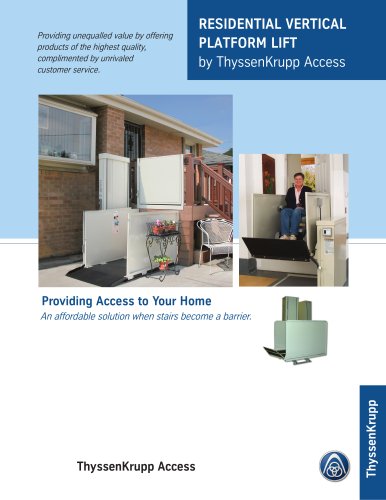 P. 2

The RA Model is an affordable alternative tolengthy, costly, and unsightly ramps. The unitcan be utilized in indoor or outdoor applications.FEATURES•...
Text version
All ThyssenKrupp Access catalogues and technical brochures
Archived catalogues
Flow 2

5 Pages