Booth::

Theben AG
Group: Theben
General Catalogue 2008 -
196 Pages
an iiiuuiiuiiLj

lort-time and defrost time switches

FRIGGA 77 FRIGGA without power reserve

• Synchronous time switches without power reserve for surface-mounted installation

• Short-time switches to control for example defrosting operations in refrigerating and ventilating systems

• Sturdy clock mechanism with two separate program dials

• 24 hour program dial for preselection of the hour at which brief switching should occur.

• 60 minute program dial for adjustment of brief contacting duration

• Type "g" allows delayed switching of the ventilator

Common technical data:

Nominal voltage: 230 V~, +10 %/-15 %

Frequency: 50 Hz

Power consumption: approx. 2.5 VA Contact: gap less than 3 mm (u), potential-free, not for SELV Contact material: AgCdO Switching capacity: 16 A, 250 V~, costp = 1 2.5 A, 250 V~, costp = 0.6

Switching accuracy: depending on the net frequency Permissible ambient temperature: -10 °C...+50 °C Housing and insulating material:

high temperature resistant,

selfextinguishing thermoplastics

Protection class:

IP 20 in accordance with EN 60529

Special version without housing IP 00

Degree of protection:

II in accordance with EN 60730-1

Test approvals: national and international

depending on device type <^ifii

Weight: 265 g (with housing)

Wiring diagrams see page 120.

FRIGGA 77

Segments for FRI 77

red

Order No. 934 3 246

green Order No. 934 3 261

FRIGGA 77-2

Dimension drawings

105

Design:

• FRI 77: Housing for wall mounting, with transparent cover.

• FRI 77-2: Mechanism without housing with snap-on fixing for top-hat rails (35 mm, DIN EN 50022), can be attached horizontally or vertically

Type

Program

Design

Programmable

Minimum

Tappet

Switching contacts

Nominal current

Order No.

dial

in mm

every ...

switching interval

complement

at 250 V~

FRI 77 h

60 min

wall mounting

1 minute/

2 minutes/

2 x green

1 change-over switch

16 (2.5) A

077 0 008

24 h

105 x 105 x 61

1 hour

1 hour

4 x red

FRI 77 g

60 min

wall mounting

1 minute/

2 minutes/

4 x green

2 change-over switches

16 (2.5) A

077 0 033

24 h

105 x 105 x 61

1 hour

1 hour

4 x red

FRI 77 h-2

60 min

drive with rapid mounting

1 minute/

2 minutes/

2 x green

1 change-over switch

16 (2.5) A

077 0 802

24 h

55 x 82 x 48

1 hour

1 hour

4 x red

FRI 77 g-2

60 min

drive with rapid mounting

1 minute/

2 minutes/

4 x green

2 change-over switches

16 (2.5) A

077 0 832

24 h

55 x 82 x 48

1 hour

1 hour

4 x red

119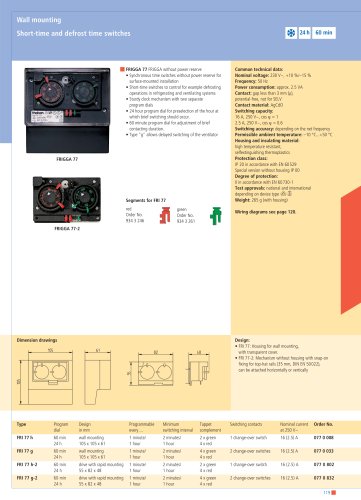 P. 114

Accessories Actuator for individual room control individual room control with individual night set-back For new buildings and modernisations Theben...

P. 115

Actuator for individual room controlAccessories Individual room control with actuators on all radiators Clock thermostat with mains supply in each room...

P. 116

Electric heating matsFloor assembly 630 ְC 7d 24 h 1h auto holidays Electrically heated mats are the ideal solutionformodernisation and new...

P. 117

all mounting/Front panel installation ilar controller, 2-5 outputs I ATON 840 Universal solar controller for a collector field • Display...

P. 118

Wall mounting C02 sensor for monitoring the room air quality 24h -V | AMUN 716 USB AMUN, USB interface When you inhale, you take up oxygen...

P. 120

Wiring diagramsWall mounting OT-BUS: 2-wire BUS between control device and switching unit. The BUS wire carries protective low voltage. Maximum BUS wire...

P. 121

Wiring diagramsWall mounting TARF RF > > RF NN12 ϑ > LN NN125 NN256 NL NL RAM 701RAM 741 RAM 702/703 RAM 704 > RF...

P. 122

122 >

P. 123

Detached house, office or conservatory: Wherever young or older people are to feel at home it's good to know that lighting, room temperature and solar...

P. 124

Living comfort controller (4 modules)Din rail program S P 120 min ! LUXOR 400 (Basic module) safety,comfort and energy savings Control units: IP...
Text version
All Theben AG catalogues and technical brochures
Archived catalogues