Booth:
TAU Cerámica
Catalogues

News

Exhibitions
Floor Tiles 2009 -

307

/ 344 Pages
302-309 31,6x31,6 2009 selvi:31,6x31,6 18/11/08 13:13 Pgina 307 >
Coleccin
Baeza
31,6 x 31,6
12 x 12᳔
Cottos
M
unicipio de la provincia deJan, situado en el centro de la
misma, sobre la Loma de beda
a 790 m de altitud. Asomada al
valle del r隭o Guadalquivir, est
enmarcada al sur y al este porlas sierras Mgica y de Cazorla.Entre sus monumentos
destacan: la Catedral de Santa
Marᡭa, el Palacio de
Jabalquinto; la Iglesia de Santa
Cruz, la plaza de los Leones, la
Casa del Ppulo y la plaza de
Santa Maria.
Baeza Tierra Baeza Beige Baeza Cuero 1CN R5 1CL R5 1CM R5 Baeza Tierra Rodapi 8 x 31,6 cm. Baeza Beige Rodapi㩩 8 x 31,6 cm. Baeza Cuero Rodapi 8 x 31,6 cm. RKD 20 R41 RKB 20 R41 RKC 20
Baeza Beige Doble Peldao Top34,1 x 34,1 cm. R41 >
A
town in the province of Ja鱩n,situated in the centre of the
province on the Loma de
beda, at 790 m above sea
level. It looks out over the
valley of the river
Guadalquivir, and is framed to
the south and east by the
Mڡgica and Cazorla mountain
ranges. Places of interest
include the cathedral of Santa
Mara, the palace of
Jabalquinto, the church of
Santa Cruz, the Plaza de los
Leones, the Casa del Ppulo,
and the Plaza de Santa Mara.
U1X R60 U1Y R60 Baeza Beige/Tierra ListeloMosaico 10 x 31,6 cm. U2R R3 Baeza Beige/Tierrangulo Mosaico 10 x 10 cm. Baeza Beige/Cuero ListeloMosaico 10 x 31,6 cm. U2S R3 Baeza Beige/CueroAngulo Mosaico 10 x 10 cm. 11 11 33 33 Baeza Listelo Collage10 x 31,6 cm. U2Q R66 Baeza nguloCollage 10 x 10 cm. U1W R54 Baeza Taco Olambra7 x 7 cm. U1V R53 11 12 30 UG8 R65Baeza Cuero Peldaqo Top31,6 x 34,1 cm. UG9 R9Baeza Cuero Doble Peldao Top34,1 x 34,1 cm. UG4 R65Baeza Tierra Peldao Top31,6 x 34,1 cm. UG6 R9Baeza Tierra Doble Peldaᱱo Top34,1 x 34,1 cm. UG5 R65 UG7 R9 4 3Baeza Beige Peldao Top31,6 x 34,1 cm. >
FUERTE
Baeza
4 10
mm. 306 307 size="-1">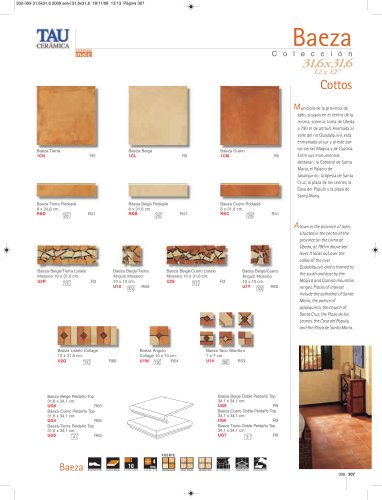 P. 303

302-309 31,6x31,6 2009 selvi:31,6x31,6 18/11/08 13:13 Pgina 303 30 x 3031,6 x 31,6 12 x 12 304 - 305 Asᔭs TAU Itסlica > 306...

P. 304

302-309 31,6x31,6 2009 selvi:31,6x31,6 18/11/08 13:13 Pgina 304 Ass >

P. 305

302-309 31,6x31,6 2009 selvi:31,6x31,6 18/11/08 13:13 Pgina 305 > Coleccin As᳭s 30 x 30 12 x 12 TAU Itԡlica C iudad de Italia,...

P. 306

302-309 31,6x31,6 2009 selvi:31,6x31,6 18/11/08 13:13 Pgina 306 Baeza >

P. 308

302-309 31,6x31,6 2009 selvi:31,6x31,6 18/11/08 13:13 Pgina 308 Medina >

P. 309

302-309 31,6x31,6 2009 selvi:31,6x31,6 18/11/08 13:13 Pgina 309 > Medina Moraira Colecciᷳn 31,6 x 31,6 12 x 12 Cottos M oraira....

P. 310

310-321 25x25 2009 selvi:25x25 18/11/08 13:16 Pgina 310 >

P. 311

310-321 25x25 2009 selvi:25x25 18/11/08 13:16 Pgina 311 25 x 10 x 25 10 312 - 313 Bielsa ᔷ >Ibrica 312 - 313 Cantabria >Ib鷩rica...

P. 312

310-321 25x25 2009 selvi:25x25 18/11/08 13:16 Pgina 312 Cantabria. Terraza McDONALDS. (Getafe - Madrid. Espaᒱa) >
Text version
All TAU Cerámica catalogues and technical brochures
Archived catalogues
CATALOGUE USA 2010

224 Pages

Integrated bathroom spaces

18 Pages

Wood Ceramics Collection

24 Pages